Last Updated: September 16, 2021
State-level momentum for comprehensive privacy bills is at an all-time high. After the California Consumer Privacy Act passed in 2018, multiple states proposed similar legislation to protect consumers in their states. The IAPP Westin Research Center compiled the below list of proposed and enacted comprehensive privacy bills from across the country to aid our members' efforts to stay abreast of the changing state-privacy landscape.
The IAPP Resource Center hosts a "US State Privacy" topic page, which provides a curated collection of news and resources covering US state privacy, as well as the US Federal Privacy Legislation Tracker, which includes a list of privacy-related bills proposed in Congress to keep our members informed about developments within the federal privacy landscape.
---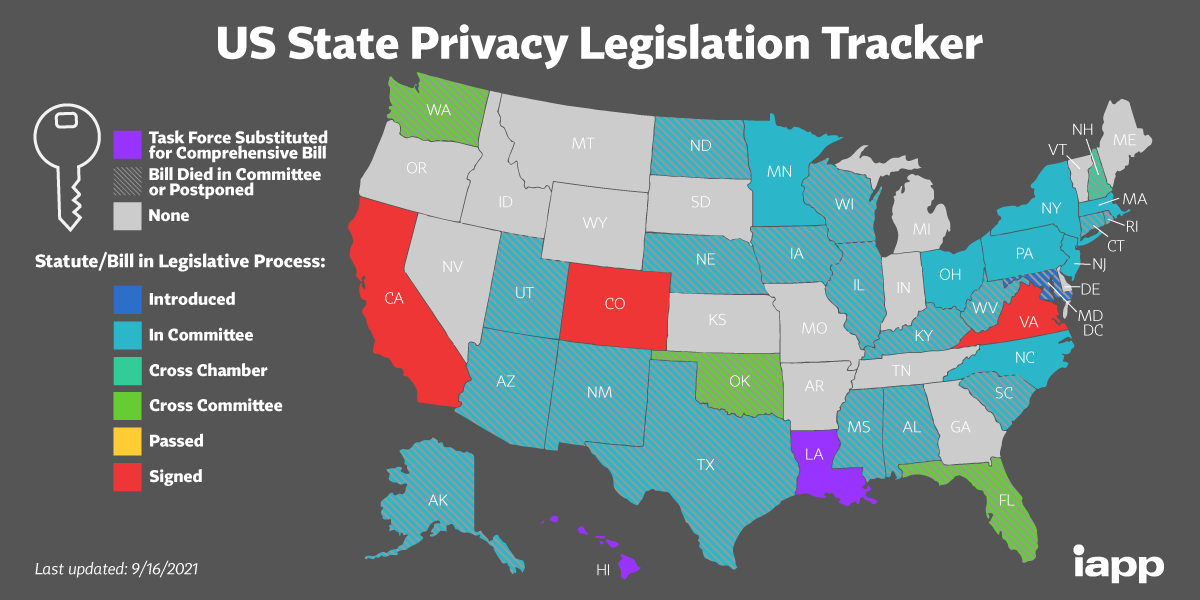 Although many of the bills included in the table will fail to become law, comparing the key provisions in each bill can be helpful in understanding how privacy is developing in the United States. Bills that are voted down or die in committee will not be immediately removed because their inclusion helps illustrate how states are thinking about privacy. We identified 13 provisions that commonly appear in comprehensive privacy statutes and placed an "x" in the corresponding column if a particular bill is included the provision. The 13 common privacy provisions are broken into two categories — consumer rights and business obligations — and are described below the table.
The table includes bills intended to be comprehensive approaches to governing the use of personal information in a state — industry-, information-specific, or narrowly scoped bills (e.g., data security bills) are not included unless they have a companion piece of legislation that collectively creates a comprehensive structure applicable to an industry central to the data-sharing economy (e.g., internet service providers or technology companies).
The Westin Research Center will periodically update this table. If you are aware of a proposed state bill (with formally introduced language) that is absent from our list, please share it with The Westin Research Center, research@iapp.org.
A note regarding the omission of Nevada SB 220 and Maine LD 946:
When this tracker was started in 2018, few comprehensive privacy bills were being introduced nationwide. At that time, we decided to include laws that were privacy bills but not necessarily comprehensive. However, the legislative landscape has evolved. This year, when we reevaluated the Maine and Nevada bills, we decided they no longer met our requirements to remain on the chart and intentionally removed the two bills from the chart.
---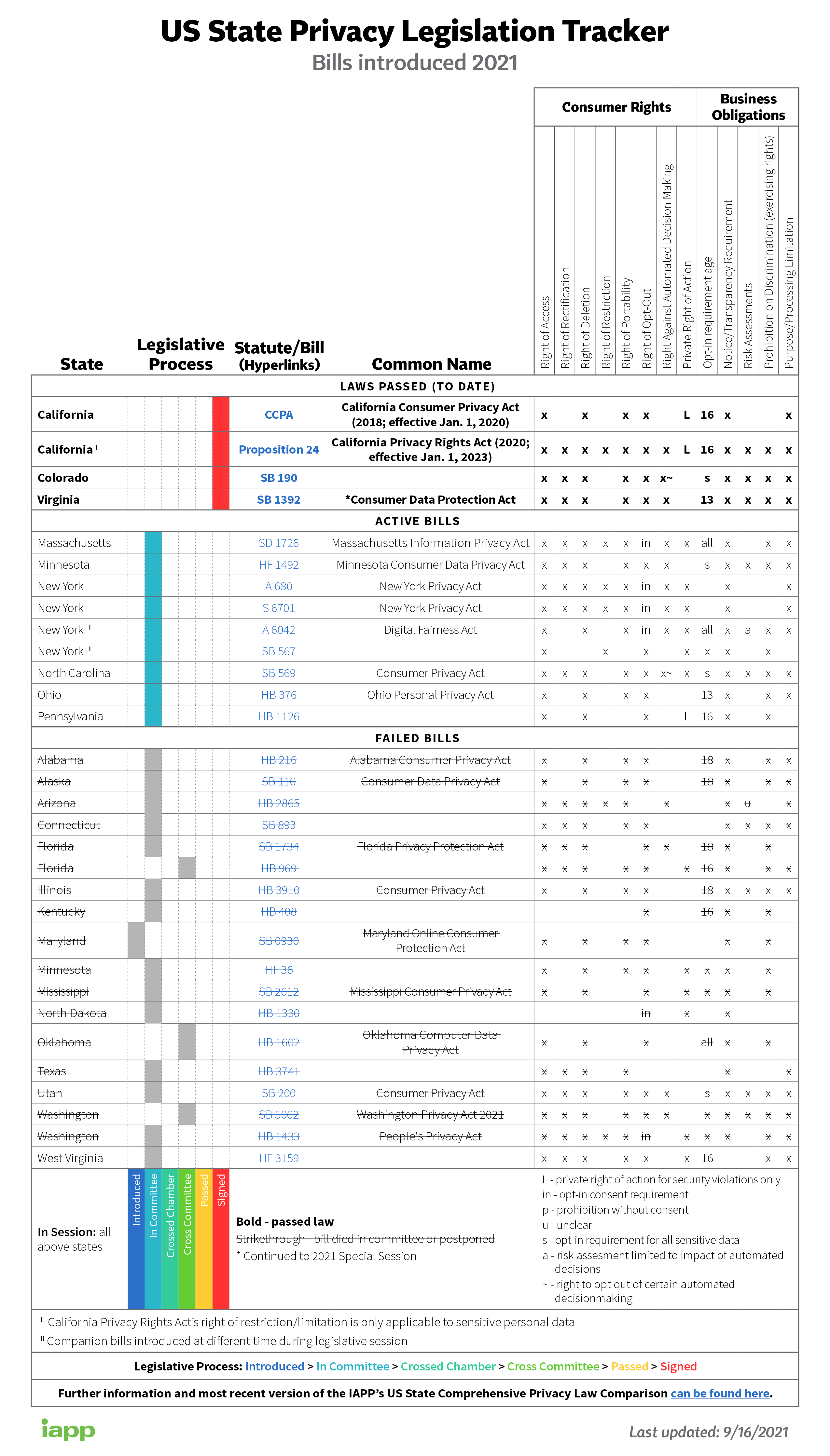 Table Elements

Legislative Process — Each state legislature has a unique legislative calendar and different legislative procedures; this set of columns generalizes those different legislative procedures into six categories:

Introduced — A bill has been introduced on a legislative chamber floor but has not yet moved into committee.
In Committee — A bill is moving through the various committees in its chamber of origin.
Crossed Chamber — A bill has passed a vote in its chamber of origin and moved to the opposite chamber of the legislature (e.g., a state house of representatives passed a bill and it moved to the state senate).
Cross Committee — A bill is moving through the various committees in its non-originating chamber.
Passed — Both chambers of the legislature have passed the bill.
Signed — The governor signed the bill and it is now law.

In Session — List of the state legislatures that are currently in session or only on a temporary (as compared to an extended) recess.

---

Provisions in Chart

Consumer Rights

The right of access to personal information collected or shared – The right for a consumer to access from a business/data controller the information or categories of information collected about a consumer, the information or categories of information shared with third parties, or the specific third parties or categories of third parties to which the information was shared; or, some combination of similar information.
The right to rectification — The right for a consumer to request that incorrect or outdated personal information be corrected but not deleted.
The right to deletion — The right for a consumer to request deletion of personal information about the consumer under certain conditions.
The right to restriction of processing — The right for a consumer to restrict a business's ability to process personal information about the consumer.
The right to data portability — The right for a consumer to request personal information about the consumer be disclosed in a common file format.
The right to opt out of the sale of personal information — The right for a consumer to opt out of the sale of personal information about the consumer to third parties.
The right against automated decision making — A prohibition against a business making decisions about a consumer based solely on an automated process without human input.
A consumer private right of action — The right for a consumer to seek civil damages from a business for violations of a statute.

---

Business Obligations

A strict opt-in for the sale of personal information of a consumer less than a certain age — A restriction placed on a business to treat consumers under a certain age with an opt-in default for the sale of their personal information.
Notice/transparency requirements — An obligation placed on a business to provide notice to consumers about certain data practices, privacy operations, and/or privacy programs.
Mandated risk assessment — An obligation placed on a business to conduct formal risk assessments of privacy and/or security projects or procedures.
A prohibition on discrimination against a consumer for exercising a right — A prohibition against a business treating a consumer who exercises a consumer right differently than a consumer who does not exercise a right.
A purpose/processing limitation — An EU General Data Protection Regulation–style restrictive structure that prohibits the collection/processing of personal information except for a specific purpose.
View Table Elements
---
Previous Editions
Here you can find archived editions of the US State Privacy Legislation Tracker, with documents organized by year in which bills were introduced.
---
The Growth of State Privacy Legislation
Here you can find infographics depicting the rapid growth of state level privacy initiatives along with a one-page chart with links to bills by year to provide historical context.
---