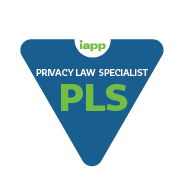 Earn Recognition as a
Top Privacy Law Specialist
TRAIN FOR ABA-ACCREDITED PRIVACY LAW SPECIALIST DESIGNATION
Why You Should Apply for the PLS Designation
Privacy is one of the fastest-growing segments of U.S. law. The IAPP Privacy Law Specialist designation, accredited by the American Bar Association, identifies holders as highly experienced and credentialed privacy law practitioners.
Who Should Apply
Lawyers with substantial, active privacy practices who want to advertise their qualifications and distinguish themselves as privacy law experts.
Training and Knowledge Requirements
PLS applicants must hold CIPP/US and either CIPM or CIPT certifications. They must also demonstrate a commitment to privacy law and provide peer recommendations. IAPP U.S. Private-Sector Privacy, Privacy Program Management, and Privacy in Technology training courses are key preparation for certification exams.
Training Options
Purchase training for the requisite PLS certifications. Click below to see lists of available trainings in the modality that matches your schedule and learning style.