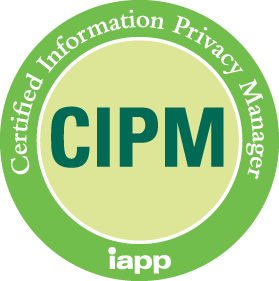 Learn to Design, Build, and Operate Data Privacy Management Programs
TRAIN FOR ANSI/ISO-ACCREDITED CERTIFICATION
Why You Should Take Privacy Program Management Training
Business functions such as marketing, finance, human resources and customer service have privacy responsibilities that can expose their organizations to financial loss and damage to reputation. IAPP Privacy Program Management Training, the training aligned with ANSI/ISO-accredited CIPM certification, gives professionals the skills to operationalize privacy and minimize risks to reputation from improper handling of personal data.
Who Should Train
Professionals responsible for integrating privacy requirements into day-to-day operations and those who are pursuing CIPM certification.
What You Will Learn
CIPM training teaches a process for conceptualizing, designing, building and operating a data privacy management program. The curriculum, available in French, German and English, includes creating a company vision, structuring data protection teams, developing and implementing system frameworks, and measuring performance.
expand_more

Privacy Program Strategy Development

expand_more

Law and Strategy Alignment

expand_more

Creating and Using Tools

expand_more

Privacy by Design and Privacy Cultures

expand_more

Incident Response

expand_more

Program Monitoring, Measurement and Analysis
Training Options
Click below to see lists of available trainings in the modality that matches your schedule and learning style.