Think Globally, Learn Locally
KNOWLEDGENET CHAPTERS ARE THE PLACE TO BE.
Meet other privacy pros in your area, network and learn something new. KnowledgeNet Chapter activities take place across the globe. Most meetings are eligible for CPE credits, and best of all—they are free for members!
Interested in getting more involved with your chapter? Learn about all chapter volunteer opportunities.
Volunteer now
IAPP members will receive email invitations to activities in their areas. Chapters are assigned based on address, or can be chosen in account profiles. Members are welcome to attend all chapter activities by registering.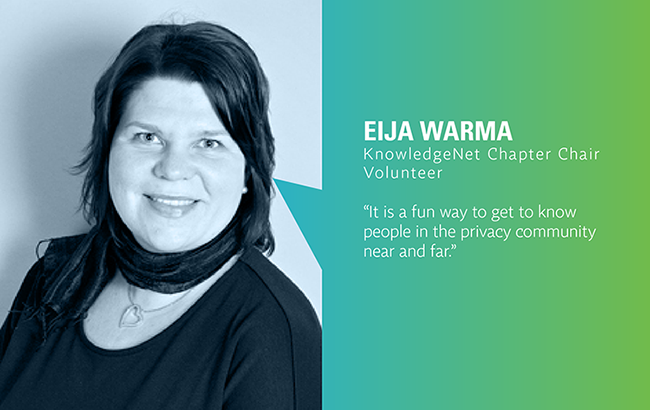 Locations, locations, locations
From Bangalore to Brussels, from Pittsburgh to Prague, from St. John's to Stockholm…there are KnowledgeNet Chapters around the world. We have chapters in these locations:
Africa
Cape Town, South Africa
Côte d'Ivoire, West Africa
Ghana, West Africa
Johannesburg, South Africa
Kenya, East Africa
Lagos, Nigeria
Asia-Pacific
Adelaide, Australia
Auckland, New Zealand
Bangalore, India
Bangkok, Thailand
Brisbane/Gold Coast, Australia
Chennai, India
Hong Kong
Hyderabad, India
Jakarta, Indonesia
Malaysia
Melbourne, Australia
Mumbai, India
New Delhi, India
Perth, Australia
Philippines
Pune, India
Saudi Arabia
Seoul, South Korea
Singapore
Sri Lanka
Sydney, Australia
Taipei, Taiwan
Tokyo, Japan
Wellington, New Zealand
Canada
Calgary, Alberta
Edmonton, Alberta
Halifax, Nova Scotia
Montreal, Quebec
Ottawa, Ontario
Quebec City, Quebec
St. John's, Newfoundland
Toronto, Ontario
Vancouver, British Columbia
Victoria, British Columbia
Waterloo, Ontario
Europe
Austria
Berlin, Germany
Bermuda
Bratislava, Slovakia
Bristol, England
Brussels, Belgium
Bulgaria
Copenhagen, Denmark
Cork, Ireland
Croatia
Cyprus
Dublin, Ireland
France
Frankfurt, Germany
Greece
Hamburg, Germany
Helsinki, Finland
Hungary
Istanbul, Turkey
Leipzig, Germany
Lisbon, Portugal
Lithuania
London, England
Luxembourg
Madrid, Spain
Malta
Milan, Italy
Munich, Germany
Netherlands
Northern England
Norway
Poland
Prague, Czech Republic
Qatar
Rhine-Ruhr, Germany
Romania
Rome, Italy
Stockholm, Sweden
Stuttgart, Germany
Switzerland
Tel Aviv, Israel
United Arab Emirates
Latin America
Bogota, Colombia
Buenos Aires, Argentina
Chile
Ecuador
El Salvador
Lima, Peru
Mexico City, Mexico
Panama City, Panama
Río de Janeiro, Brazil
San José, Costa Rica
Santo Domingo, Dominican Republic
São Paulo, Brazil
Uruguay
United States
Albany, NY
Atlanta, GA
Austin, TX
Baltimore, MD
Birmingham, AL
Boston, MA
Caribbean
Charlotte, NC
Chicago, IL
Cincinnati, OH
Cleveland, OH
Columbia, SC
Columbus, OH
Connecticut
Dallas, TX
Delaware
Denver, CO
Des Moines, IA
Detroit, MI
Florida—Central
Florida—South
Houston, TX
Indianapolis, IN
Jacksonville, FL
Kansas City Metro Area
Las Vegas, NV
Los Angeles, CA
Louisville, KY
Memphis, TN
Minneapolis/St. Paul, MN
Nashville, TN
New Jersey
New Orleans, LA
New York, NY
Northern New England
Northern Virginia
Northwest Arkansas
Omaha, NE
Orange County, CA
Philadelphia, PA
Phoenix, AZ
Pittsburgh, PA
Portland, OR
Puerto Rico
Raleigh/Durham, NC
Richmond, VA
Rochester, NY
Sacramento, CA
Salt Lake City, UT
San Antonio, TX
San Diego, CA
San Francisco Bay Area, CA
Seattle, WA
Silicon Valley, CA
Southern Wisconsin
St. Louis, MO
Washington, D.C. Metro Area
Photography/Video: You should be aware that the IAPP may be taking photographs and video in public areas of events. We may use such media in marketing materials, educational products and publications. Your image and the sound of your voice may be recorded on audio or video tape. If you are identified during the recording, or identify yourself by name, that information may be included in our materials. Recordings may be edited, copied, exhibited, published or distributed.
Questions about KnowledgeNet Chapters?
Email us at knowledgenet@iapp.org.