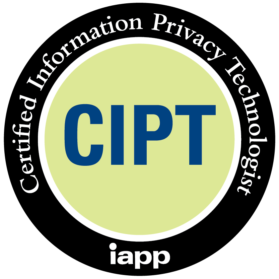 Advanced Privacy Knowledge to Improve Your Technology Development Skills
TRAIN FOR ANAB-ACCREDITED CIPT CERTIFICATION
Why You Should Take Privacy in Technology Training
Data privacy regulations worldwide require privacy protections be built into products and services. IAPP Privacy in Technology training, aligned with the ANAB-accredited CIPT certification program, will provide you with the knowledge to recognize privacy threats and skills to apply technical strategies to mitigate privacy risk throughout the software and systems development lifecycles.
Who Should Train
Software developers, information security professionals, data architects, privacy engineers, network and cloud engineers responsible for incorporating privacy controls into technology operations and product development. Training helps with career advancement and preparing for CIPT certification testing.
What You Will Learn
Privacy in Technology training teaches technology and data professionals how to understand and integrate strategies and techniques to minimize privacy threats. The curriculum includes privacy-by-design principles; implementing data- and process-oriented strategies to support privacy policies; and managing threats from AI, location tracking, etc.
expand_more

Foundational Principles in Technology

expand_more

The Tech Pro's Role in Privacy

expand_more

Neutralizing Threats and Enhancing Privacy

expand_more

Privacy Engineering

expand_more

Technological Challenges for Privacy
Training Options
Click below to see lists of available trainings in the modality that matches your schedule and learning style.
Beware of Unauthorized Trainers
If you are considering training with a company that is not the IAPP or an IAPP Official Training Partner, be careful. Unauthorized trainers often guarantee – erroneously – you will pass the exam and may wrongfully claim to be authorized by the IAPP and/or use our logo and official seal illegally. To see if a trainer is authorized, view our list of IAPP Official Training Partners worldwide. If the training company is not on our list, you risk being duped out of your time and money and being less prepared for your exam.