CIPM Certification
Four letters that can make a real difference
Make a difference in your organization and in your career. The CIPM designation says that you're a leader in privacy program administration and that you've got the goods to establish, maintain and manage a privacy program across all stages of its lifecycle.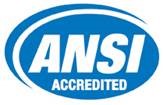 Accredited under ANSI/ISO standard 17024:2012. Learn more.
Certified Information Privacy Manager
The "how" of privacy operations, and why you need it.
The CIPM is the world's first and only certification in privacy program management. When you earn a CIPM, it shows that you don't just know privacy regulations—you know how to make it work for your organization. In other words, you're the go-to person for day-to-day operations when it comes to privacy.
What you'll learn
How to create a company vision
How to structure the privacy team
How to develop and implement a privacy program framework
How to communicate to stakeholders
How to measure performance
The privacy program operational lifecycle
The CIPM body of knowledge outlines all the concepts and topics that you need to know to become certified. The exam blueprint gives you an idea of how many questions from each topic area you can expect on the exam. These documents, as well as additional certification resources and helpful links, can be found here.
We strongly encourage all potential test takers to read our 2019 Certification Candidate Handbook before testing for details on our testing policies and procedures.