CIPM Certification
Four letters that can make a real difference
Make a difference in your organization and in your career. The CIPM designation says that you're a leader in privacy program administration and that you've got the goods to establish, maintain and manage a privacy program across all stages of its life cycle.
Our Brazilian Portuguese, Chinese, French and German versions were translated from our English exam through a rigorous process using the industry's most respected translation firms, and following ISO-certified quality assurance processes. No machine translation was employed. Instead, native language speakers and subject matter experts reviewed materials multiple times to ensure accuracy, consistency and fluency.
Add a CIPP/E credential to the CIPM and you'll be uniquely equipped to fulfill the DPO requirements of the GDPR. The CIPP/E relates to the knowledge a DPO must have concerning the European legal framework of the legislation, and the CIPM to the theoretical aspects necessary to lead an organization's data protection efforts.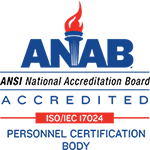 ANAB-accredited under ISO standard 17024:2012. Learn more.
Certified Information Privacy Manager
Operationalizing Privacy – Turning Policies into Programs
Make data privacy regulations work for your organization by understanding how to implement them in day-to-day operations. Learn to create a company vision, structure a data protection team, develop and implement system frameworks, communicate to stakeholders, measure performance and more.
What you'll learn
How to create a company vision
How to structure the privacy team
How to develop and implement a privacy program framework
How to communicate to stakeholders
How to measure performance
The privacy program operational life cycle
The CIPM body of knowledge outlines all the concepts and topics that you need to know to become certified. The exam blueprint gives you an idea of how many questions from each topic area you can expect on the exam. These documents, as well as additional certification resources, can be found here.
We strongly encourage all potential test takers to read our Certification Candidate Handbook before testing for details on our testing policies and procedures.
Get started today! Sign up for IAPP training right away and when it's time, register to take your exam. To help you get ready for the test itself, check out our tips on how to prepare for your exam.
Here are our top five reasons to pursue your CIPM certification:
The CIPM is the global industry standard in privacy programme management.
Master the skills to establish, maintain and manage a privacy programme across all stages of its operational lifecycle.
Bear the mark of a privacy leader who drives the culture of privacy within your organisation.
Elevate your leadership profile among your colleagues.
Secure the confidence that you have the essential tools and knowledge to boost your privacy programme and add value across your organisation in both the public and private sectors.