A week after making stops at the Federal Trade Commission (FTC) and the Department of Homeland Security (DHS) to discuss privacy and cybersecurity, respectively, President Barack Obama made, for privacy professionals, what was perhaps the most highly anticipated State of the Union (SOTU) address ever. Big issues were on the docket: a federal data breach notification standard, student privacy and cybersecurity legislation, stronger anti-hacking laws, not to mention surveillance reform.
So how did privacy fare in last night's speech?
All said and done, not too bad. It took a while for the president to get there—he's got a lot of constituents to please—but get there he did. About three-quarters of the way into his speech—which, for the first time ever, was made available to the public beforehand via Medium—hedove into it:
format_quote"No foreign nation, no hacker, should be able to shut down our networks, steal our trade secrets or invade the privacy of American families, especially our kids. We are making sure our government integrates intelligence to combat cyber threats, just as we have done to combat terrorism. And tonight, I urge this Congress to finally pass the legislation we need to better meet the evolving threat of cyber-attacks, combat identity theft and protect our children's information. If we don't act, we'll leave our nation and our economy vulnerable. If we do, we can continue to protect the technologies that have unleashed untold opportunities for people around the globe."
Both sides of the aisle appeared to support, at the very least, moves to improve the nation's cybersecurity efforts.
Extended applause for #SOTU mention of #privacy and #cybersecurity issues. Looks to be some support there, esp. cybersecurity

— IAPP Daily Dashboard (@DailyDashboard) January 21, 2015
Additionally, the president called for a strong infrastructure "to protect a free and open Internet, extend its reach into every classroom and every community and help folks build the fastest networks, so that the next generation of digital innovators and entrepreneurs have the platform to keep reshaping our world."
The president also delved into surveillance reform by announcing a new report, due out next month, on national security and privacy. "So while some have moved on from the debates over our surveillance programs, I haven't," said Obama. "As promised, our intelligence agencies have worked hard, with the recommendations of privacy advocates, to increase transparency and build more safeguards against potential abuse. And next month, we'll issue a report on how we're keeping our promise to keep our country safe while strengthening privacy."
SOTU Reactions
In light of last night's SOTU, Pew Internet Research shared some of the nation's top concerns, and clearly, privacy and cybersecurity are a top consideration. A whopping 91 percent of American adults surveyed think "consumers have lost control over how personal information is collected and used by companies," while only two percent think social media sites are "very secure" and only 14 percent feel "somewhat secure" sharing sensitive data on social media.
According to PCWorld, a survey of ISACA members revealed that more than three quarters "strongly agreed" with Obama's data breach notification proposal, while approximately eight percent of the 3,400 respondents "strongly disagreed." In a column on Tuesday, former California Rep. Mary Bono called for a national breach notification standard.
With surveillance reform, however, the Electronic Frontier Foundation said another report was just not enough.
A privacy report on surveillance is not enough. What we need now is strong reform to stop mass spying: https://t.co/5LOeHNmIov #SOTU

— EFF (@EFF) January 21, 2015
 Sen. Ron Wyden (D-OR) expressed similar sentiment:
I will keep saying it—the best way to protect Americans' privacy is to end mass surveillance. NOW. #EndThisDragnet #SOTU

— Ron Wyden (@RonWyden) January 21, 2015
The Hill described Obama's cybersecurity call to action as "historic," noting that his speech "easily surpassed any previous cyber mention in specificity, breadth and urgency." Rep. Elijah Cummings (D-MD) said, "No doubt about it … He made the case for a bipartisan, strong effort to address cybersecurity."
The Republicans, too, want the president to focus on cyber info sharing. "It is imperative the president and Congress get serious about tackling the issue," said Sen. John Barrasso (R-WY), and Sen Ron Johnson (R-WI) said, "The president's proposal is an important first step in developing (cyber info-sharing) legislation."
The Interactive Advertising Bureau also expressed support last night on Twitter:
.@BarackObama promotes info sharing b/w industry and law enforcement to advance cybersecurity and we agree - http://t.co/YC8MlUKQj5

— Mike Zaneis (@mikezaneis) January 21, 2015
Not everyone agrees, however, with the president's cybersecurity proposal.
Mary Ellen Callahan, CIPP/US, who served as chief privacy officer for the DHS, yesterday discussed some of her concerns with the legislation in this post for Privacy Perspectives. Plus, George Mason University released research on Tuesday calling the president's cybersecurity proposal into question. Others, such as The Intercept's Dan Froomkin, say the proposals sound good but ultimately undermine information security.
Access expressed concerns through an infographic: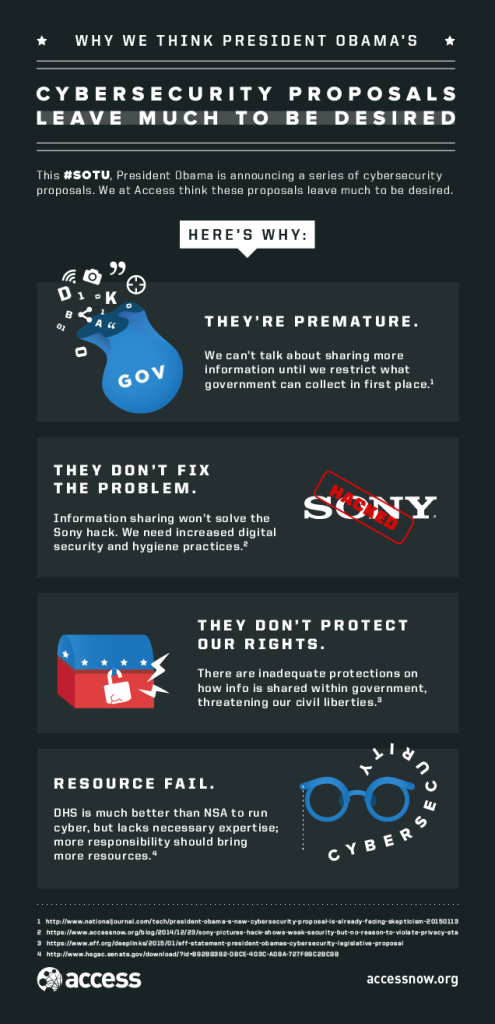 In the background of this speech, too, is student privacy reform. During his speech at the FTC last week, Obama specifically warned companies that do not support a pledge to protect student privacy. In a sense, it was a veiled threat to companies such as Google. As such, on Tuesday, Google, reversing tack, agreed to sign the pledge. One of the industry's biggest players, Pearson, however, has yet to join the pledge, saying, "we prefer to work directly with our customers rather than requiring a one-size-fits-all solution."
But altogether, privacy has really made its way into the national consciousness. Last year, the president mentioned privacy once in regard to surveillance reform, and at the time, that was a big deal. Now, we have several paragraphs that touched upon some of privacy's most pressing issues.
Whether its breach notification, student privacy, surveillance reform or a cybersecurity framework, regardless of what side you fall on—whether you support the president's privacy and cybersecurity initiatives or not—one thing is clear: The wheels for proposing legislation are fully in motion, making 2015 another busy year for privacy.
Oh, and if you were among the crew who decided to make the SOTU into some sort of pseudo Bingo/drinking game, there was one "cyber" and two "privacy" mentions, so you probably stayed sober. Or as Kashmir Hill pointed out:
If you drank every time Obama said "we need companies to institute better security practices," you drank 0 times.

— Kashmir Hill (@kashhill) January 21, 2015
 Top image courtesy of CBS News.
Comments
If you want to comment on this post, you need to login.