Earn credits and help the profession
The IAPP is looking for volunteers to write sample questions for IAPP certification exams . Sample questions are study aids that give test takers a preview of the exam format and help them focus on the most important content. Hundreds of privacy pros every year rely on sample questions to help pass their IAPP certification exams.
For the go-to people in your organization on privacy laws, regulations, standards and frameworks
The first and only privacy certification for the people who manage day-to-day operations
The industry benchmark for IT professionals who manage and build privacy requirements and controls into technology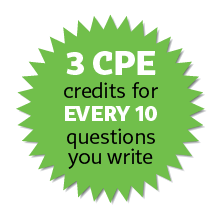 Help Your Peers and Yourself
Helping your peers study for their exams will earn you three Continuing Privacy Education credits for every 10 questions you write, not to mention their undying gratitude.
How do I qualify?
Anyone with a minimum three years of experience in the privacy field who has held an IAPP certification for at least six months is eligible.. We'll even provide you with convenient online training on question-writing techniques and best practices. (If you're already an IAPP exam writer, sorry, but we can't have you also writing sample questions.)
Ready to help your privacy colleagues cure their pre-exam jitters? Contact Cora Paradiso and Juhree Wheeler in the training department today to get your IAPP volunteer journey started.