Editor's Note:
To apply to be listed in the next publication of the IAPP Tech Vendor Report, please send an email to IAPP Associate Editor Ryan Chiavetta, CIPP/US, at rchiavetta@iapp.org. To view the application guidelines, click here.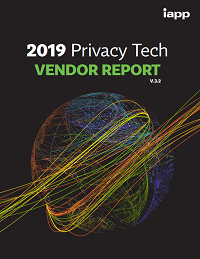 Updated: October 2019

The privacy tech vendor market continues to mature as more organizations around the world adopt products and services that help automate and streamline necessary functions for the privacy office and enterprise as a whole. Since the last iteration of the IAPP "Privacy Tech Vendor Report" at the end of 2018, dozens of new vendors have entered the marketplace. Many of these vendors are startups backed by angel or venture capital funding. Other more established organizations are also getting into the privacy space, as comprehensive laws, like the EU General Data Protection Regulation and California Consumer Privacy Act, become an operational reality and catch the attention of corporate leadership.
Previous Editions
GUIDELINES FOR SUBMISSION:

Include your company name, whether you are a new or existing vendor (in the report), year founded, number of employees, and whether you are a privately held or publicly traded company.

For the location of your company's headquarters, please submit both the city and country you are located. For leadership, please separate each person's name and title by a comma, and each person by a semicolon. Please limit your submissions to three. For example: Person A, CEO; Person B, Chief Financial Officer; Person C, Chief Technology Officer

When filling out the description of your offerings, please limit it to 100 words and avoid using any marketing lingo. The IAPP reserves the right to edit all copy that does not adhere to this request.

Please include a high-resolution file of your logo and screenshot of the tech solution, then upload each individually with your company name in each file name. For the screenshot of the solution, dashboards and other interfaces are highly recommended. The only formats the IAPP will accept are .jpeg, .png, .tiff, .eps and .pdf.

As mentioned above, the IAPP will now accept submissions for vendors offering data subject request solutions, as well as our existing categories. If your solution fits any definition, please check off the corresponding box in the form.

PRIVACY TECH VENDOR CATEGORIES

Assessment managers tend to automate different functions of a privacy program, such as operationalizing privacy impact assessments, locating risk gaps, demonstrating compliance and helping privacy officers scale complex tasks requiring spreadsheets, data entry and reporting.

Consent managers help organizations collect, track, demonstrate and manage users' consent.

Data mapping solutions can come in manual or automated form and help organizations determine data flows throughout the enterprise.

Data subject request solutions help organizations facilitate inquires made by individuals who wish to exercise their data rights. These can include requests involving the right to access, rectification, portability and erasure.

Incident response solutions help companies respond to a data breach incident by providing information to relevant stakeholders of what was compromised and what notification obligations must be met.

Privacy information managers provide organizations with extensive and often-automated information on the latest privacy laws around the world.

Website scanning is a service that primarily checks a client's website to determine what cookies, beacons and other trackers are embedded to help ensure compliance with various cookie laws and other regulations.

Activity monitoring helps organizations determine who has access to personal data and when it is being accessed or processed. These solutions often come with controls to help manage activity.

Data discovery tends to be an automated technology that helps organizations determine and classify what kind of personal data they possess to help manage privacy risk and compliance.

Deidentification/pseudonymity solutions help data scientists, researchers and other stakeholders derive value from datasets without compromising the privacy of the data subjects in a given dataset.

Enterprise communications are solutions that help organizations communicate internally in a secure way to avoid embarrassing or dangerous leaks of employee communications.

Finally, vendors must put a working contact person and email address at the bottom of the form.

Click Here To Access Submission Form

The IAPP "Privacy Tech Vendor Report" is one of the industry's most widely read guides to privacy-related technology products. For advertising information, availability and pricing, please contact the sales team at sales@iapp.org.

Thank you very much,

IAPP publications