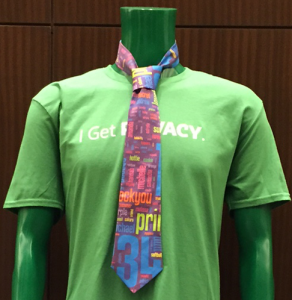 As public surveillance becomes a regular part of everyday life, CCTV cameras have become pop culture icons. From graffiti to fashion, artists have used CCTV cameras to make a statement about ubiquitous surveillance. Case in point: Lining the hallways between the exhibit halls of this week's IAPP Global Privacy Summit, you'll find a small army of green men sporting the IAPP's collection of CCTV-themed T-shirts.
Acquired as part of a larger collection of CCTV and George Orwell ephemera, the shirts add some humor and color to the event—and another way of seeing how artists and designers are interpreting today's privacy issues.
And though it's not CCTV, we couldn't resist displaying Lori Cranor's Password tie. 
Take a look at some of the shirts here (click image to enlarge).
---
Into T-shirts? Stop by IAPP central and pick up your "I get privacy" t-shirt. Tweet it out using the #igetprivacy hashtag and have a chance to win a free IAPP conference pass.
Comments
If you want to comment on this post, you need to login.