About the Section
Privacy Engineering pros gather here
This is where privacy professionals working in the IT and privacy engineering fields come together and connect. The Privacy Engineering Section offers a range of programs, events, content and networking opportunities through which privacy pros working in IT and related fields can connect and advance.
For members, the Privacy Engineering Section is the hub of activities, including programming, publications and networking opportunities. IAPP section members get access to tons of great benefits. Benefits that include a boatload of networking opportunities and specialized content, plus access to ongoing web conferences, exciting special events and a lot more.
Upcoming Events
Great stuff is happening—check it out
KnowledgeNet Events
Please join us at an upcoming KnowledgeNet Chapter meeting that features Privacy Engineering Section content. Find a meeting near you!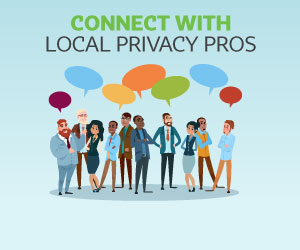 Don't see your city? Check out the IAPP store for a full listing of IAPP KnowledgeNet meetings. Or connect with your local Knowledge Chapter Chairs to volunteer to speak or host an event.
Web Conferences
Looking for specialized web conferences with privacy engineers in mind? Search no further – we've got you covered!
Check out the IAPP Store for a full listing of web conferences.
Strategic Privacy by design
 "Strategic Privacy by Design" is a new handy guide to implementing privacy by design, written from a practitioner's perspective. Authored by R. Jason Cronk, CIPP/US, CIPM, CIPT, FIP, this is the first IAPP book to get into the details of how privacy by design works, with dozens of sample scenarios, workflows, charts, and tables.
Stay Connected!
Member Directory
Use the Privacy Engineering Section search filter in the Member Directory to connect with fellow section members. Not opted in? No problem! Visit your Member Directory Preferences in your MyIAPP portal to make any edits.
Listserve
Join the Privacy List—just for IAPP members. Click here to join!  Stay in touch, get advice, swap ideas—simply e-mail privacylistserv@iapp.topicbox.com once you're subscribed.
Get Involved!
Want to become more active in your section? Check out the section specific volunteer opportunities below:
• Privacy Engineering Section Meet-Up Host
• Privacy Engineering Section After Hours Host
• Privacy Engineering Advisory Board Member
To find out more information on these volunteer opportunities and how to apply, visit the Volunteer page. 
Calling all Privacy Engineers!
Experts in the privacy engineering field are being asked to step up and share their expertise. We're looking for speakers to address topics such as user interface design, data ethics in artificial intelligence, privacy by design, de-identification, implementation of privacy technologies and much more. This Call for Proposals is open all year long and we accept sessions on a rolling basis.
Are you looking to share your privacy engineering research with the privacy world? Submit your case studies! If you're selected, we will offer you an opportunity to present your case study in one of our publications, our live conferences, or virtually on one of web conferences.
Advisory Board
Privacy pros at the helm
Guiding the Privacy Engineering Section, the Advisory Board represents a diverse group of leaders with a broad range of privacy engineering expertise.
Meet each of them now.