ABA committee approves IAPP's new 'Privacy Law Specialist' designation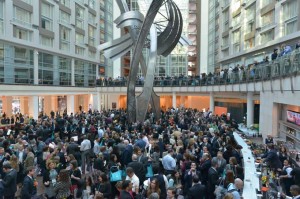 Are you a U.S. lawyer looking to call yourself a specialist in privacy? Good news: On Oct. 22, the American Bar Association's Standing Committee on Specialization voted unanimously to recommend the IAPP's new "Privacy Law Specialist" designation for formal ABA accreditation. Much work remains to be done, and many states have their own processes separate from the ABA's, but the path is clear for the Privacy Law Specialist designation to be conferred upon applicants sometime in the first quarter of 2017. IAPP Research Director Rita Heimes' has all the details in this The Privacy Advisor article.
About the Section
Privacy law pros gather here
This is where privacy lawyers, including practitioners and judges, academics and students, find the resources they need to discover, discuss and debate the latest legal developments, such as CJEU and Supreme Court jurisprudence; international, federal and state court decisions; new legislation, legislative bills and more.
For members, the Privacy Bar Section is the hub of activities, including programming, publications and networking opportunities for privacy law developments in the U.S., EU and around the globe.
Join Us
Looking to join an IAPP Section? Great. It's easy and affordable, and IAPP section members get access to tons of great benefits. Benefits that include a boatload of networking opportunities and specialized content, plus access to ongoing web conferences, exciting special events and a lot more. 
It's all waiting for you, so don't put it off.
Message from the Chair
In its short history, the IAPP's Privacy Bar Section is already off to a running start. We kicked off the Privacy Bar Section at a forum immediately following the Global Privacy Summit 2016, an event we'll repeat after Summit 2017.
Since then, the Privacy Bar Section has produced webinars for attorneys—including one in French—and has helped the IAPP in its application for ABA accreditation of the Privacy Law Specialist designation. We've had networking events at the Privacy.Security.Risk. Conference and the Europe Data Protection Congress, and are working on a privacy curriculum project and other outreach events for law school faculty and students.
 These projects demonstrate an active, committed and global base among the IAPP's membership and underscore the importance of creating programming for legal-focused privacy professionals within the IAPP's membership and content services. There is much work to be done and many opportunities for members of the Privacy Bar Section to get involved.
Christopher Wolf
Partner, Hogan Lovells
IAPP Privacy Bar Section Chair
Advisory Board
Privacy pros at the helm
Guiding the Privacy Bar Section, the Advisory Board—chosen from your nominations—represents a diverse group of leaders with a broad range of privacy law expertise.
Meet each of them now.
Upcoming Events
Great stuff is happening—check it out
Friday, April 21, 2017
Washington, DC
Join a distinguished group of your peers and colleagues as we hear from some of the legal profession's foremost experts. Register today!
Training and Workshops April 17–18 l Conference April 19–20
Washington, DC
Register today!
Co-sponsored by the IAPP, Future of Privacy Forum and Washington & Lee University School of Law
Call deadline: February 24, 2017