It all started with a call from a U.S-based intelligence agency in 2013.
"I received a request to publish images," said sometimes-photographer, artist, programmer, professor, and general jack-of-all trades, Adam Harvey. He'd developed a host of privacy-related art and clothing, and the National Security Agency wanted to classify pictures of his work for its own internal purposes.
"I still think it's really funny ─ you need someone's permission to publish an image in a qualified document that I will never see," he said.
But amusement wasn't the only feeling the request generated.
"In 2013, receiving that email created a lot of anxiety for me," Harvey said. "My reaction was, the point of [my work] was to reach as many people as I can to create more literacy and savviness" about privacy topics. He'd been doing that before with devices like the OffPocket, a little Faraday cage for your smart phone that prevents tracking, or CV Dazzle, that employs hair and makeup tricks to confuse biometric technology.
His work, while varied, centers around user knowledge and empowerment, a concept he became interested in when he studied photography at New York University's Interactive Telecommunications Program, where he now teaches a course called the "Stratosphere of Surveillance."
It was during his studies he had a realization that "a camera is a really powerful tool, and people who are being shot don't have many ways to control their image," he said.
He was intrigued with trying to "balance that power and symmetry between the subject and photographer." This in turn spurred him to explore technological tricks for blocking paparazzi. His studies "can be related somehow to the data paparazzi problem of 2016," he said. "There are a lot of people taking advantage of weak privacy policies and a lack of data literacies, and exploiting that for commercial gain, and that's what I'm influenced by right now."
But back in 2013, Harvey wanted to amp up his educational efforts, and the NSA request only heightened that yearning. He was looking for a "fun way" to talk about privacy, surveillance, data collection ─ all those hot-button, often-unwieldly buzzwords "that aren't that fun to talk about," he said. "I wanted to present those ideas in a way that other people wouldn't have anxiety talking about."
It was then that the idea for the Privacy Gift Shop finally hit him, one that blended approachability with information and creative flair.
"All gifts shops are friendly places, even more so than an art museum," he said.
Thus, he brought his idea to New Museum's Lauren Cornell, who encouraged Harvey to pursue the idea. The museum moved to feature the Privacy Gift Shop as a pop-up exhibit beginning in fall 2013, eventually traveling to Tel Aviv, London and Vienna. The store sold colorful prints with pro-privacy slogans, t-shirts, and some of Harvey's other products, like the aforementioned OffPocket and accessories like the anti-drone scarf. His products and the store that housed them even garnered the attention of publications like The Observer and Ad Week.
The cheeky attitudes the press took towards his pieces, for example, the use of the word "products" to describe his art, didn't and still doesn't bother Harvey; in fact, he welcomes people to view his pieces in either context, even encouraging individuals to embrace the vocabulary of a consumer.
"You can approach a 'product' more so than 'art' … calling it a product allows people to talk about it with less apprehension," Harvey said. 
Harvey believes that there is an as-of-yet untapped potential for privacy to enter the commercial space, and when privacy art is simplified and labeled a 'privacy product' wholesale, it will become less doomsday, more everyday. Consider aspirin. If abused, the drug can be lethal, yet shoppers don't eye it warily as they purchase the near-ubiquitous bottle for $5.99 at their corner store when their head is pounding. The product's availability makes it's potentially unsavory properties palatable, distilling it into something wholly useful, necessary, and placidly mundane.
The push towards a dual vocabulary for his pieces isn't accidental, for Harvey. It forces viewers, consumers, etc.,  to grapple with their privacy perceptions and fears ─ or, for some, their lack of knowledge all together.
"We want to make it challenging," Harvey said. "The formula that I use for the Privacy Gift Shop [is that] I want to make things about 20 percent education and 80 percent provocative, and I think education happens more when people are provoked to get involved with it," he added.
This friendly immersion is part of what will help erode a lot of the negativity that hovers around privacy topics like a storm, he maintains. "There's room for a lot of new words to describe the feelings for living with all this surveillance," Harvey said. "I prefer 'anxiety' over 'paranoia,' and I prefer 'savviness' to 'literacy,'" he continued. He doesn't like terms like "being a luddite" or "living off the grid" either. They oversimplify while breeding consternation, he argues, suggesting instead vocabulary that promotes a more positive, digestible spin on the feelings and attitudes associated with privacy, or lack thereof.  
"I think privacy is really complex, and understanding it shows a level of sophistication," he said. "Using the right words while being able to display that you have an understanding of privacy and data shows a certain amount of technological literacy."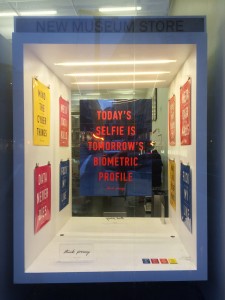 In other words, the more you know, the more there is less to fear.
Some people take umbrage with his mission.
"Of course, legal and ethical stuff come up," Harvey said, laughing. "Isn't counter surveillance helping the quote unquote "bad guys?" To me, that's a tainted and outdated way of thinking. There are a lot of technologies" ─ he names things as sophisticated as Twitter and as mundane and everyday as cell phones and cars ─ that have been employed for nefarious purposes.
It comes down to this, for him: giving up privacy is losing. The projects he's working on really don't stop surveillance. But he sees each one as a challenged to it; sees his work as a demilitarization action.
In general, reception to the Privacy Gift Shop exhibit has been warm. It's this success that has Harvey looking forward. He's spent the past three years now developing the store's framework, and he hopes for "a sustainable practice" and to "grow it as a marketplace."
New products? He's kicking around ideas comprising everything from counter surveillance art and privacy accessories to the "UnFitbit, a tool that can spoof your fitness tracker," he said.
Ultimately, Harvey wants to "build a community so other people can have projects too," while even having a more permanent store somewhere. In the meantime, there's pop-up shows upcoming in Hong Kong next week, the online store, and possibly a new show in Berlin, where Harvey's relocating soon.
"Before we build more surveillance in our tech infrastructure," Harvey said, "I am in favor in protecting and preserving what's left of privacy because it creates a better society."
Photo credits Adam Harvey. 
Comments
If you want to comment on this post, you need to login.