Giovanni Buttarelli, who passed away earlier this week, was a colossus in our field. As European Data Protection Supervisor, he spearheaded data protection law and policy in Brussels institutions, including the European Commission, the Council of Ministers, the European Parliament and the Court of Justice of the European Union. But much more than that, he was a beloved and much-admired member of the privacy and data protection community, acquiring numerous devotees at all ranks of the profession all over the world.
To recognize Giovanni's unique stature, impact and legacy, the IAPP is launching a special In Memoriam page, where members of the community will share tributes, memories, photos and thoughts. We begin today with contributions from Andrea Jelinek, head of the Austrian Data Protection Authority and chair of the EDPB, Helen Dixon, data protection commissioner of Ireland, and Elizabeth Denham, the U.K.'s information commissioner.
Words from colleagues: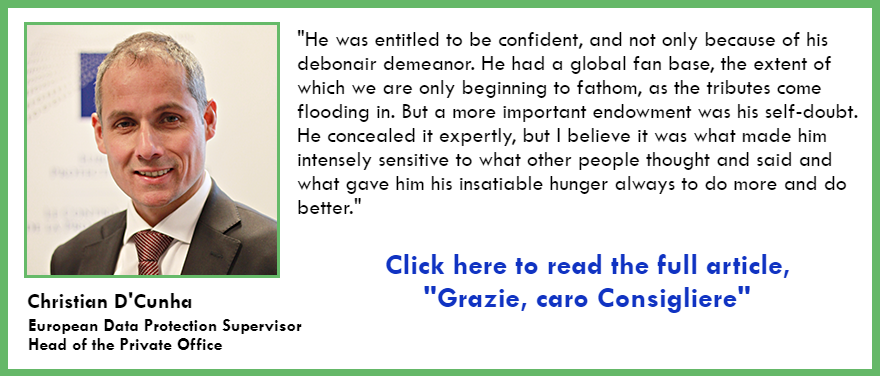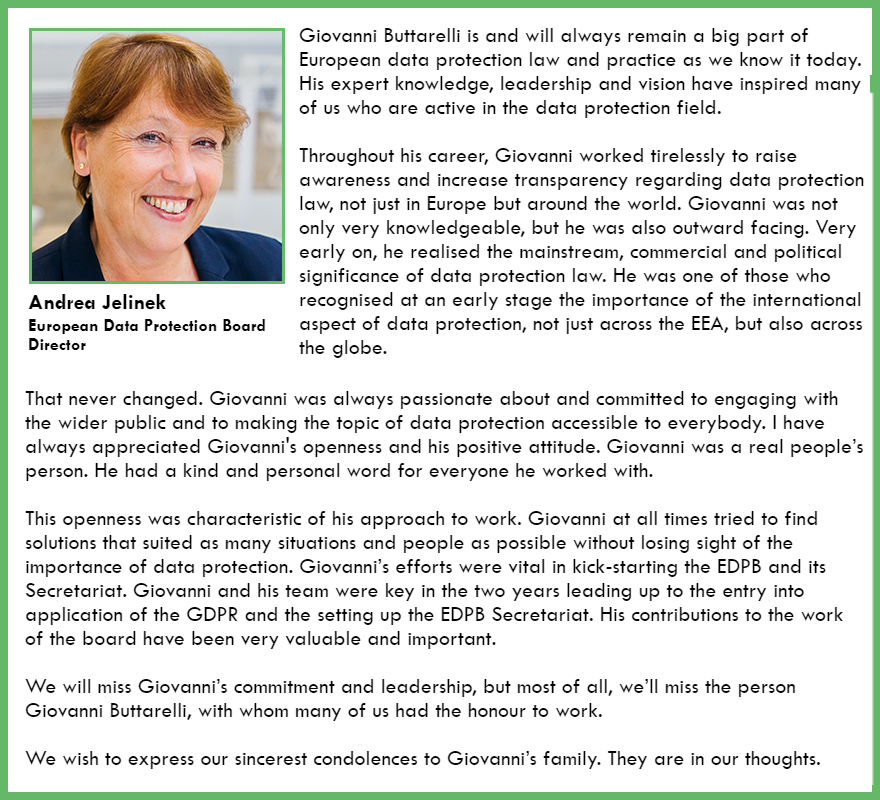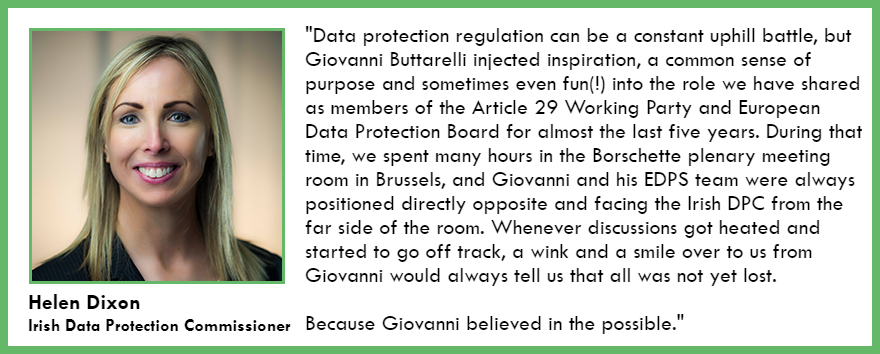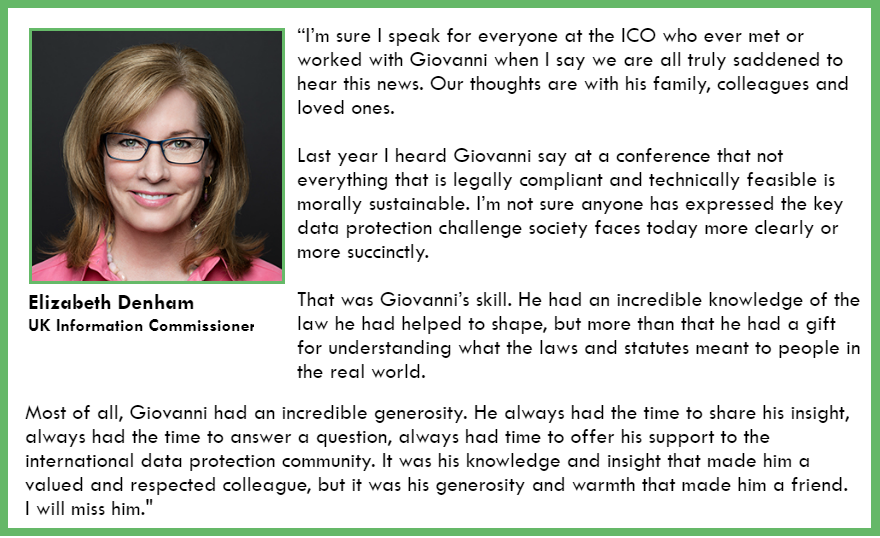 May 2019: Giovanni Buttarelli named IAPP's 2019 Privacy Leadership Award winner
The International Association of Privacy Professionals awarded Buttarelli the organization's 2019 Privacy Leadership Award, which was announced at the IAPP's Global Privacy Summit.
Click here to read more.
'Choose Humanity: Putting Dignity back into Digital'
European Data Protection Supervisor Giovanni Buttarelli spoke about privacy as a fundamental universal value and the need to put dignity back into the digital space during the public session of the International Conference of Data Protection and Privacy Commissioners event in Brussels, Belgium, October 2018.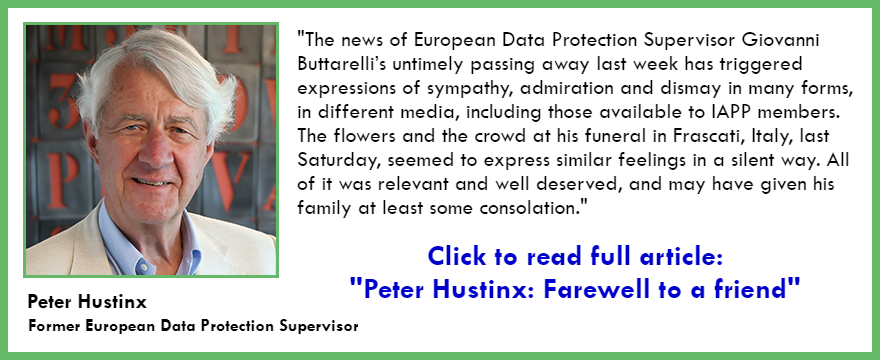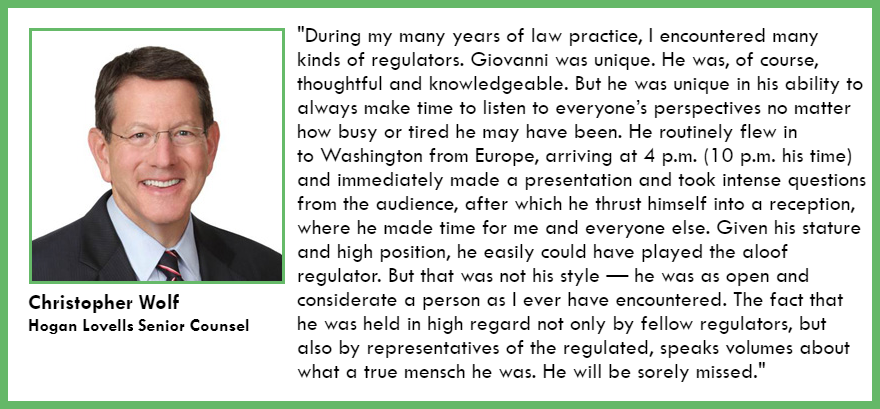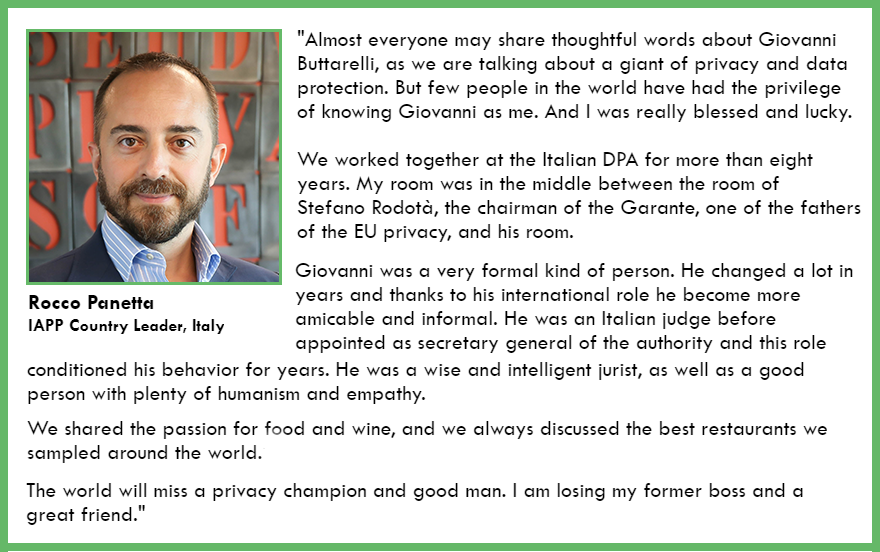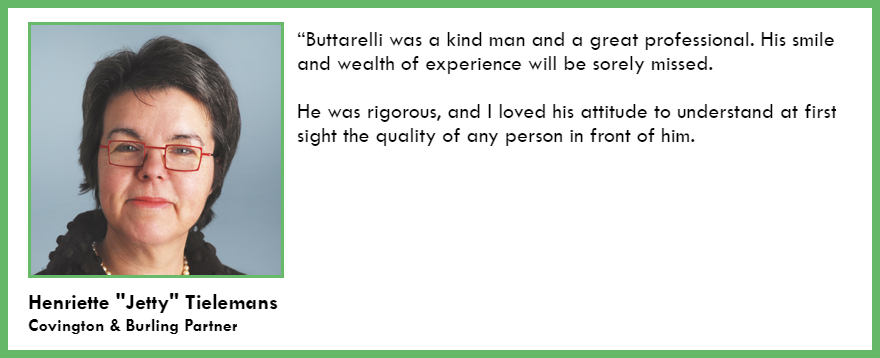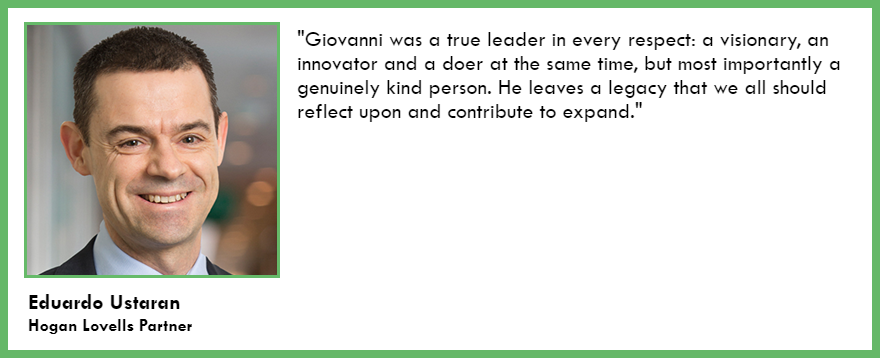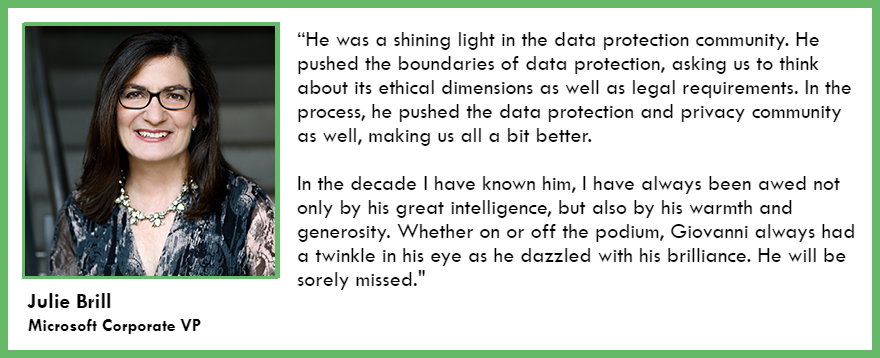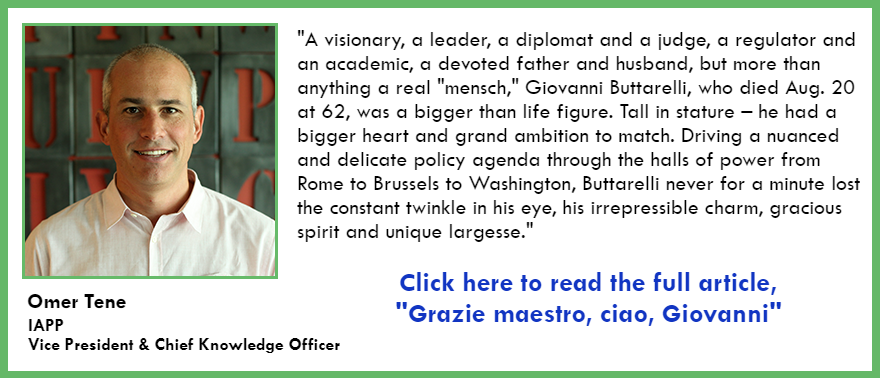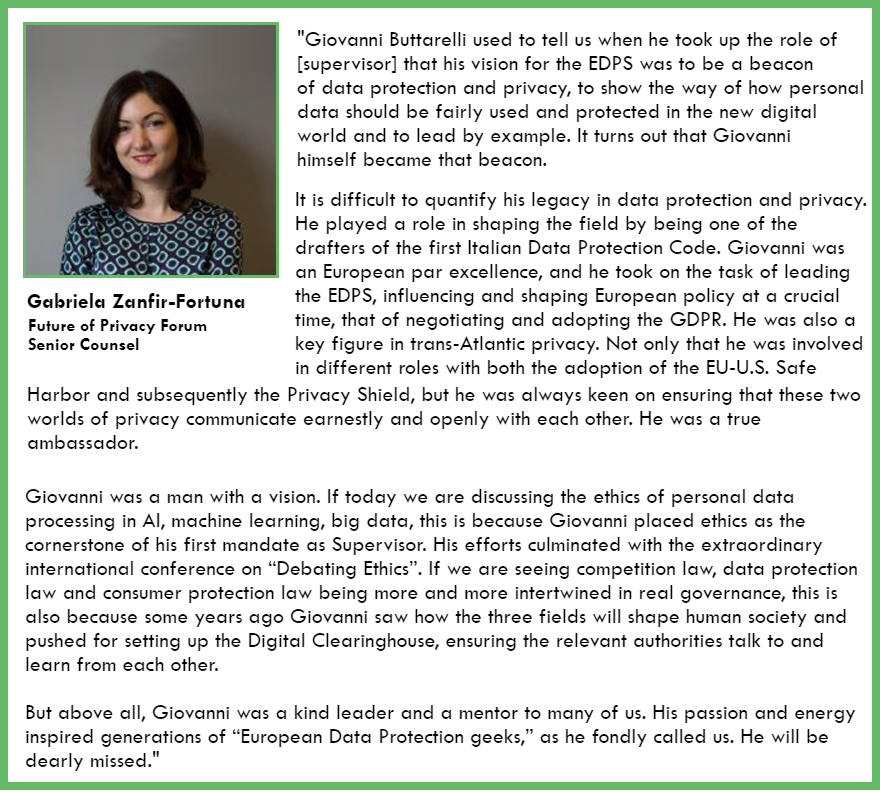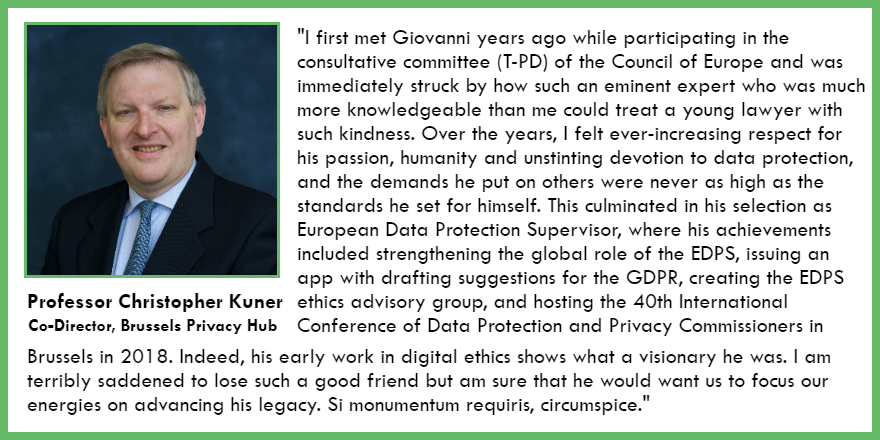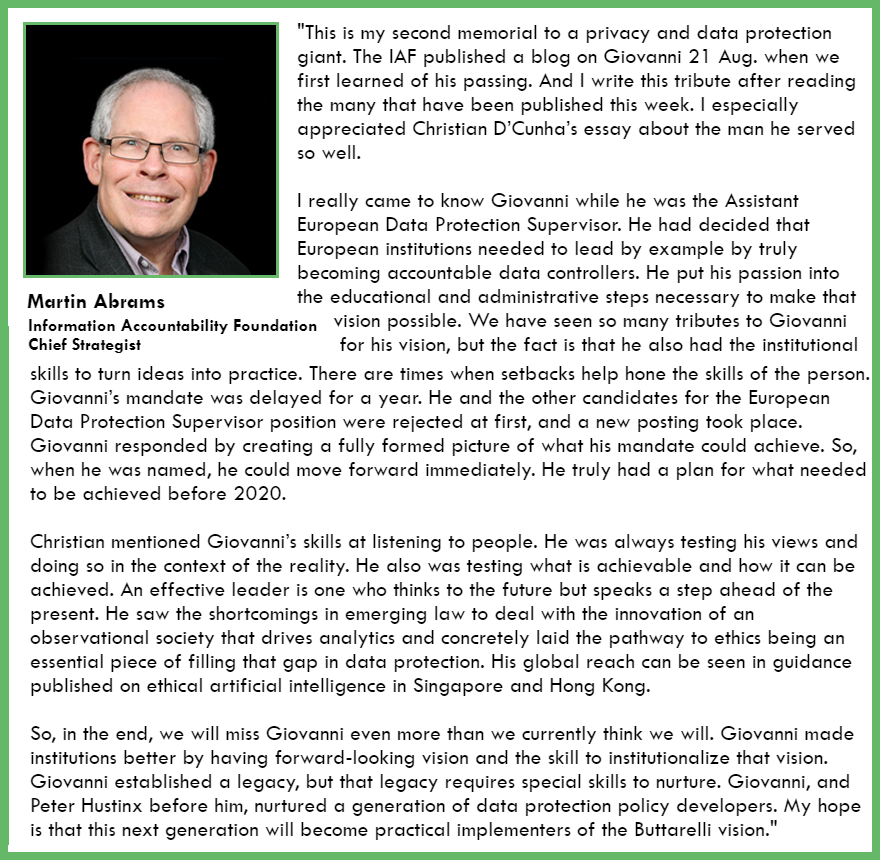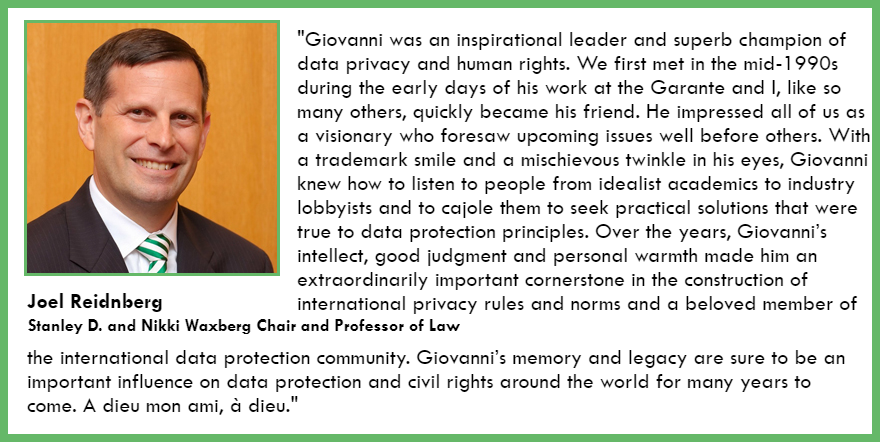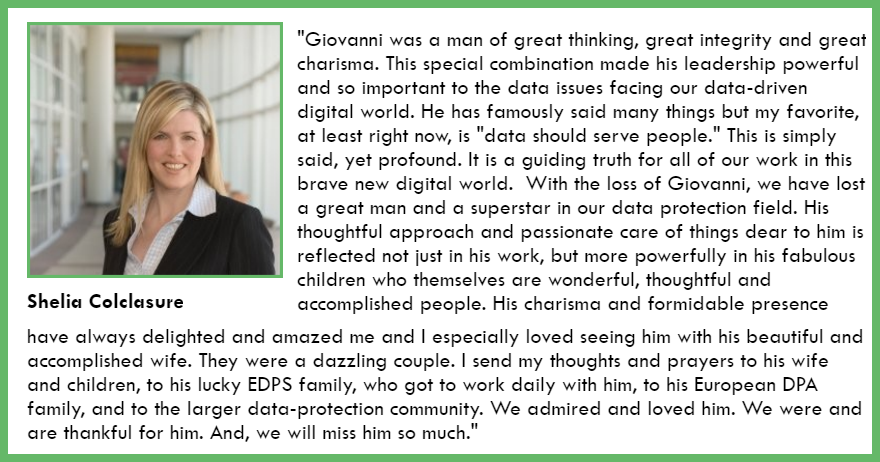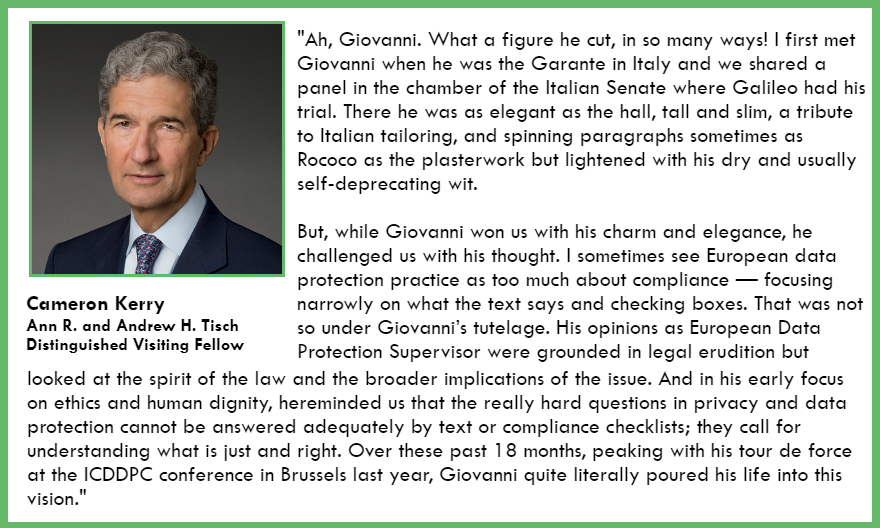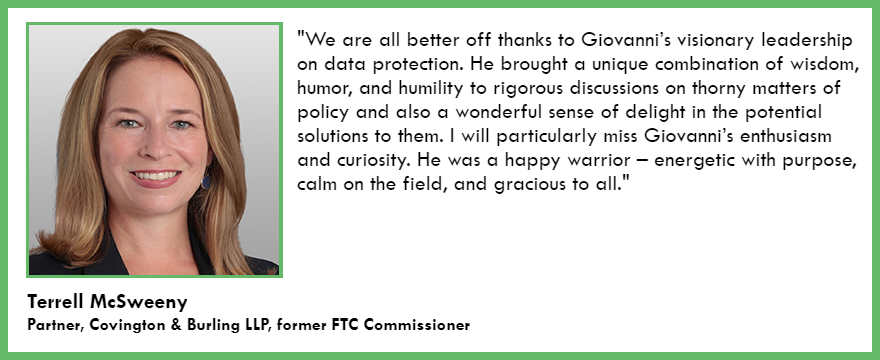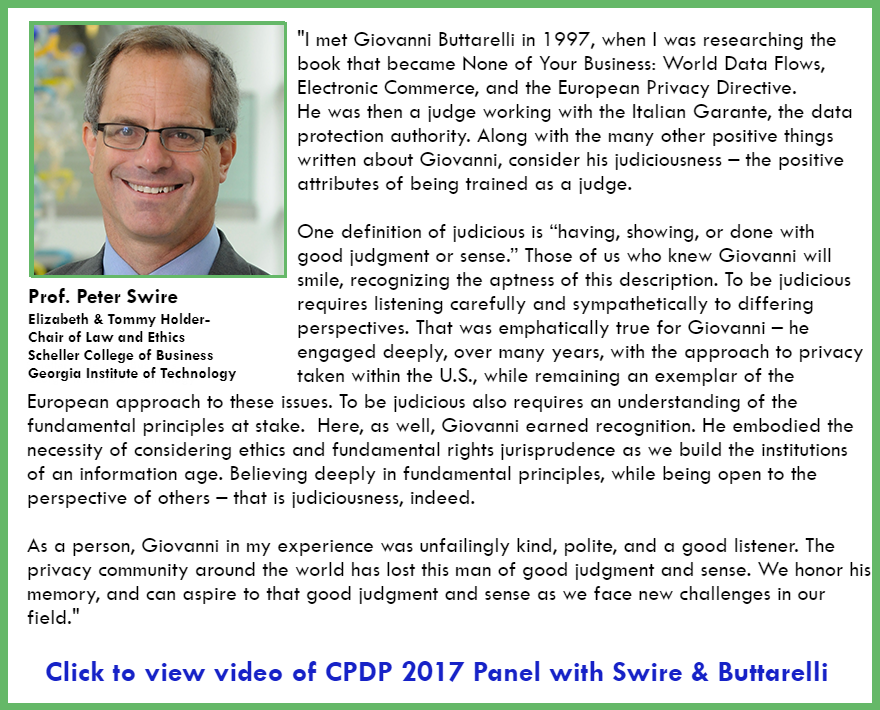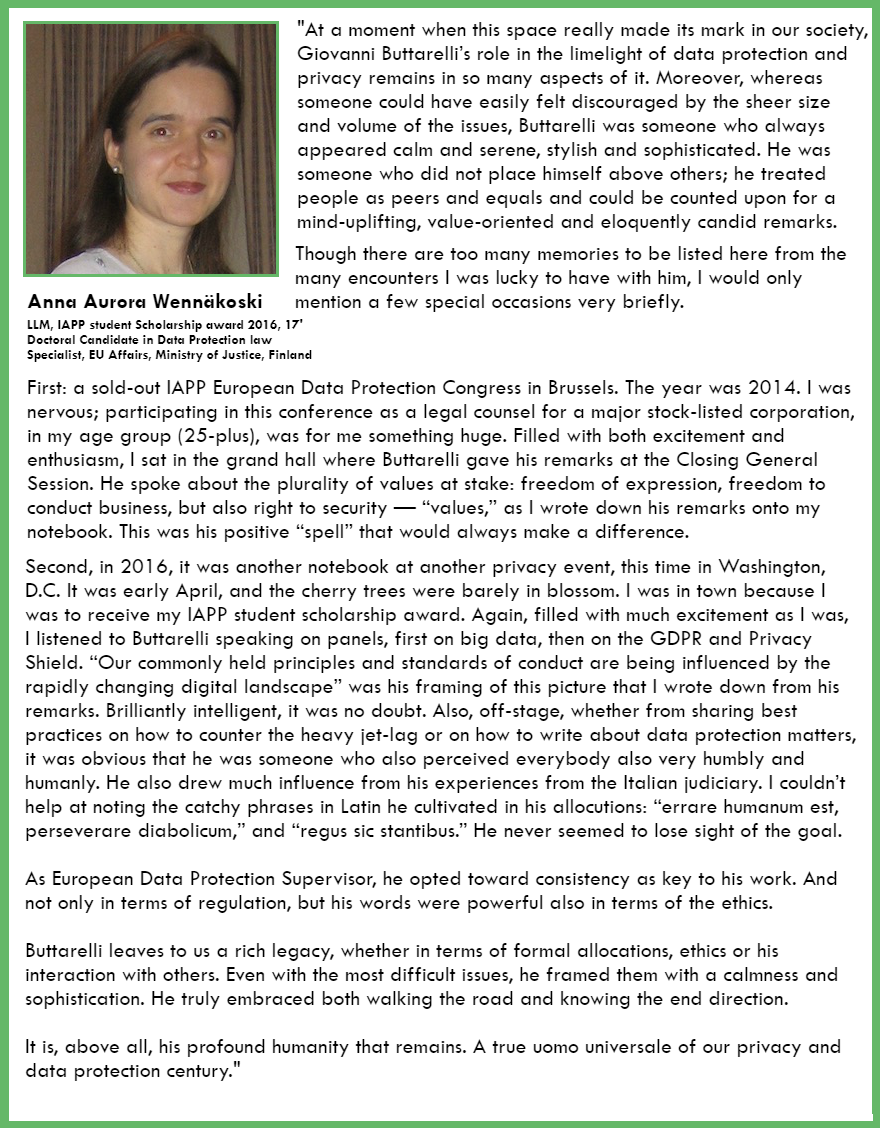 Spoken on social media:
Wonderful photo collection of Giovanni Buttarelli through the years. #Giovanni

Addio Giovanni Buttarelli, Garante europeo privacy morto a 62 anni. Le foto - https://t.co/tWugbQKo3H https://t.co/sy7bbR3hVu

— Trevor Hughes (@jtrevorhughes) August 22, 2019
Heartbroken by the loss of my friend Giovanni Buttarelli, a visionary who advanced the cause of privacy in Europe and around the world. Our thoughts are with his family and all who loved him. Giovanni was a great man, and we are forever in his debt. pic.twitter.com/euCLzqc95m

— Tim Cook (@tim_cook) August 21, 2019
1/3 It is with the deepest regret that we announce the loss of Giovanni Buttarelli, the European Data Protection Supervisor. Giovanni passed away surrounded by his family in Italy, last night, 20 August 2019. pic.twitter.com/Tsb3KzMFzF

— EDPS (@EU_EDPS) August 21, 2019
"I am deeply saddened by the news of Giovanni Buttarelli's death.
With his brilliant legal mind, he dedicated his professional life to upholding the values on which the EU was founded."

Statement by @JunckerEU → https://t.co/YGc7E5DO9j https://t.co/bRhd39ndBv

— European Commission 🇪🇺 (@EU_Commission) August 21, 2019
Chair Elizabeth Denham and her colleagues on the Executive Committee of the International Conference of Data Protection and Privacy Commissioners express their sadness on the news of Giovanni Buttarelli's death. View full statement here: https://t.co/Fv03pt6koh @EU_EDPB

— ICDPPC Secretariat (@ICDPPCSec) August 22, 2019
I learned with great sadness the passing away of Giovanni Buttarelli. He worked relentlessly to defend European values and protect data protection – both in the EU and globally @EU_EDPS. My thoughts are with his family. https://t.co/YesxwuI2AS

— Věra Jourová (@VeraJourova) August 21, 2019
[1/3] It is with great sadness that the CNIL College and team have learnt of the passing of Giovanni Buttarelli, European Data Protection Supervisor. pic.twitter.com/tnNcbV4pSQ

— CNIL_en (@CNIL_en) August 21, 2019
I am saddened to hear of the loss of Giovanni Buttarelli, the European Data Protection Supervisor. He was a champion in defending the privacy of 500 million EU citizens. pic.twitter.com/013tRuBTvN

— David Sassoli (@EP_President) August 21, 2019
We are saddened by the passing of Giovanni Buttarelli, the European Data Protection Supervisor. Europol is grateful for his support to the organisation in enhancing both freedom and security. Our thoughts are with his family, friends and colleagues @EU_EDPS https://t.co/b8NHuQhi9y

— Europol (@Europol) August 21, 2019
Saddened to learn of the passing of Giovanni Buttarelli, head of @EU_EDPS. Giovanni was a leader and #privacy visionary, and my thoughts go out to his family and others experiencing his loss. https://t.co/RB6wPJwEOc

— Noah J. Phillips (@FTCPhillips) August 21, 2019
Deeply saddened by the heartbreaking news of the loss of the European Data Protection Supervisor, Giovanni Buttarelli. Our thoughts are with his family, friends and close collaborators. https://t.co/SH0FcUd0IE

— IDP Albania (@IdpAlbania) August 21, 2019
ENISA bids farewell to Giovanni Buttarelli; #ENISA's Executive Director, Udo Helmbrecht and the ENISA team offer our heartfelt condolences to the family, friends and colleagues of Giovanni Buttarelli, the @EU_EDPS. https://t.co/L0vGszpcSz

— ENISA (@enisa_eu) August 21, 2019
We are saddened by the passing of the EU data protection supervisor, Giovanni Buttarelli. It was an honour and a pleasure to work with him over the years to promote and defend #dataprotection in the EU and beyond. https://t.co/JwAXr2GUMb @EU_EDPS pic.twitter.com/iXzLgUSrSe

— Access Now (@accessnow) August 21, 2019
We would like to express as Turkish Data Protection Authority, our condolences on the loss of Mr. Giovanni Buttarelli who has undertaken very important works on data protection law. #GiovanniButtarelli @EU_EDPS

— KVKK (@KVKKurumu) August 21, 2019
RIP Giovanni Buttarelli. I remain deeply grateful for your thought leadership, kindness, and support, and together with my students will always remember your visits in our comparative privacy seminar @Harvard_Law and our working together across the Atlantic. We miss you. https://t.co/0KfKG62WTK

— Urs Gasser (@ugasser) August 22, 2019
A sad day for Europe and for the digital rights community. Giovanni Buttarelli will be remembered as a strong defender of #privacy rights. Our condolences go to his family, friends and colleagues. https://t.co/psUzJIIKDT

— EDRi (@edri) August 21, 2019
Profoundly saddened to learn of Giovanni Buttarelli's passing. He was important to this world, and a kind and good person. My thoughts are with his family— pic.twitter.com/o2F6xhFdkP

— World Privacy Forum (@privacyforum) August 21, 2019
Extremely sad to hear that European Data Protection Supervisor Giovanni #Buttarelli has passed away. Great Italian, great European. We will miss you Giovanni. #EuropeanUnion

— Enrico Letta (@EnricoLetta) August 21, 2019
Very sad to hear that @EU_EDPS Giovanni Buttarelli has passed away. Having met him several times he always struck me as refreshingly open and warm, and was graced with quick-wit and a sharp erudition. Tragic to lose someone at the heart of the #EU data protection community.

— Samuel Stolton (@SamuelStolton) August 21, 2019
R.I.P Giovanni Buttarelli.
My condolences to his family, his colleagues and his friends.
He will be deeply missed by all of us.#eudatap #privacy https://t.co/NrUT5IIG8L

— Jeroen Terstegge (@PrivaSense) August 21, 2019
Incredibly sad by the passing of Giovanni Buttarelli. It was a pleasure and an honour working with him over the past decade. He was an inspiring lawyer with a deep passion for data protection and fundamental rights, and I've learned a lot from him.

Ciao Giovanni. https://t.co/auqufRApce

— Paul Breitbarth (@EuroPaulB) August 21, 2019
Giovanni Buttarelli - We have lost a very great and good man, and wonderful friend. He was an irreplaceable thought leader in our field of privacy and a paragon of kindness and decency. May he rest In peace. https://t.co/r0lVfCEd31

— Alan Raul (@acraul) August 21, 2019
The Ombudsman and her team are deeply saddened by the loss of Giovanni Buttarelli. Our thoughts are with his family and all the colleagues at the @EU_EDPS. https://t.co/D8NPVLnrVB

— European Ombudsman (@EUombudsman) August 21, 2019
Der europäische Datenschutzbeauftragte Giovanni Buttarelli ist gestern Abend verstorben. Mein Beileid und Mitgefühl gilt seinen Angehörigen.
Vivissime condoglianze per il grave lutto che ha colpito la famiglia. https://t.co/imkMJmFCT6

— Alexandra Geese (@alexandra_geese) August 21, 2019
It is with great sadness that we learn about Giovanni Buttarelli's passing last night. The PSIA community had the privilege to have him at the last Youth & Leaders Summit. Our deepest condolences to his family and his loved ones. pic.twitter.com/ItHmp951JV

— PSIA Sciences Po (@PSIASciencesPo) August 21, 2019
E' stato tra i più grandi esperti mondiali di diritto delle nuove tecnologie, diritto alla privacy e alla protezione dei dati personali.https://t.co/WtdlaKyLik

— La Stampa (@LaStampa) August 21, 2019
Con #Giovanni #Buttarelli, #Garante europeo della #privacy,scompare un protagonista della #tutela dei diritti delle persone in ambito digitale,l'autore del #Regolamento EU di tutela dei dati personali ma soprattutto un uomo e un amico gentile,generoso e indimenticabile @pdnetwork

— Silvia Costa (@SilviaCostaEU) August 21, 2019
Giovanni Buttarelli, Garante europeo per la Privacy, è venuto a mancare la scorsa notte.
È una brutta notizia, che priva noi tutti di un uomo di grandi qualità e straordinario coraggio e l'Italia di una autorevolisssima rappresentanza in ambito europeo.
Condoglianze alla famiglia

— Raffaele Barberio (@rafbarberio) August 21, 2019
My heart fills with grief at the passing of this great man. Giovanni Buttarelli was a warrior for democracy and the Enlightenment values that sustain the democratic project, now under threat. Let his memory be a beacon to us in the big work ahead. Carry the torch. @EU_EDPS https://t.co/jAWSQGkASe

— Shoshana Zuboff (@shoshanazuboff) August 21, 2019
I last met Giovanni Buttarelli @CFR_org
in Ny
Despite his illness he was eager to discuss @SOMAObservatory
#disinformation #GDPR
his young son alongside to support him
may he rest in peace condolences to his family
Quote Tweet https://t.co/bidpwS0qez

— Gianni Riotta (@riotta) August 21, 2019
1/2.@EU_EDPS .@UNGlobalPulse It was an honor to know &work with Giovanni Buttarelli, the European Data Protection Supervisor, a wonderful person and a proven friend of the international public community. He was a policy innovator, who built bridges so data is used for global good

— Mila Romanoff (@MilaRomanoff) August 21, 2019
Deeply saddened to hear of the loss of Giovanni Buttarelli.

Hope we can all keep and follow his legacy.https://t.co/aGbyDcwPCEhttps://t.co/vXD9J0aFqQ https://t.co/1EgkOyq4ow

— Carola Frediani (@carolafrediani) August 21, 2019
Very sad loss. Giovanni Buttarelli was really kind, a fixture at privacy events in Brussels. He cared a lot about his work and was always willing to talk. https://t.co/2sZqUfMkxw

— Catherine Stupp (@catstupp) August 21, 2019