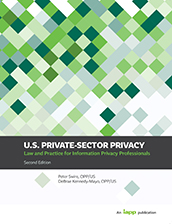 Peter P. Swire, CIPP/US
DeBrae Kennedy-Mayo, CIPP/US

U.S. Private-Sector Privacy: Law and Practice for Information Privacy Professionals is an indispensable guidepost for those working in the constantly changing privacy landscape. Peter Swire and DeBrae Kennedy-Mayo provide thoughtful analysis of U.S. laws and regulations and the technological and social developments that influence them. Covering the medical, financial, educational, telecommunications and marketing sectors, as well as enforcement, data breach and incident management, online activities, and privacy issues in investigations and litigation, U.S. Private Sector Privacy is a comprehensive resource encompassing the essentials of privacy practice.
 
Reorganized, expanded and updated to reflect current issues in privacy law, this edition addresses key topics including: 
Limits on private-sector collection and data use.
Common principles and approaches to information privacy and data protection.
Big Data and the Internet of Things.
The European Union's General Data Protection Regulation and the EU-U.S. Privacy Shield.
Enforcement and security in the context of major events, such as the Snowden disclosures and the Wyndham and LabMD cases.
U.S. Private Sector Privacy is also the principal text for the IAPP's Certified Information Privacy Professional/United States (CIPP/US®) credential, which is part of the CIPP certification program—the most recognized and sought-after certification in information privacy and data protection.