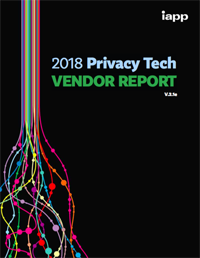 In the last year, the privacy technology market has gone from an emerging space to a full-blown, dynamic ecosystem. With new and robust compliance requirements set forth by the EU General Data Protection Regulation now in effect, more than 100 new and established companies are now part of the privacy technology menu, and this is growing by the day. This latest version of the 2018 report contains 192 vendors, more than doubling the amount of vendors in just one year. Not to be outdone, existing vendors have also built out new privacy technology services in the last year, making for a rich marketplace.
Download Report (PDF 8.2MB)
The deadline for new vendors or updates to existing vendors in the next version of the Privacy Tech Vendor Report is Feb. 4, 2019. You can apply for inclusion or update your vendor profile here.
To see the 2017 report, click here.