ANAB is a wholly owned subsidiary of ANSI and will be integrating ANSI Accreditation Services under the ANAB brand in the coming year. During this period, you will see our transition from the ANSI accreditation symbols and logo to the ANAB accreditation symbols and logo to reflect this integration. This does not change our accreditation status or the status of your accredited certifications.
The Value of Accreditation
INTERNATIONAL RECOGNITION IN THE PRIVACY FIELD AND BEYOND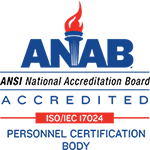 ANAB only accredits those certification programs that meet the highest standards and best practices in their field. As a respected member of the International Accreditation Forum (IAF), ANAB-accredited certifications boast a universal stamp of approval and acceptance from governing bodies across the world.
The IAPP offers the first and only accredited global certifications in information privacy, recognized for meeting the ANAB/ISO gold standard that allows you to certify once and be accepted everywhere.
Why is accreditation so important?
Accreditation is a tremendous acknowledgement of the integrity of the IAPP's certification programs. Achieving it provides four key benefits:
Demonstrates IAPP credentials meet a global, industry-recognized benchmark
Ensures IAPP credentials are consistent, comparable and reliable worldwide, giving professionals the opportunity to have skills that translate across borders
Protects the integrity and ensures the validity of the IAPP certification program
Promotes to employers, colleagues, clients and vendors that IAPP-certified professionals have the necessary knowledge, skills and abilities to perform their work anywhere in the world.
Learn more about how you can become IAPP-certified or find out how you can bring IAPP certification to a group in your organization.
More about ANAB Accreditation
ANAB is a wholly-owned subsidiary of the American National Standards Institute (ANSI) and a recognized leader in personnel credentialing. Currently, ANAB is also the only personnel certification body in the United States to meet nationally accepted practices for accreditation.