Networking+
Make career-boosting connections in the privacy, information security and technology industries – or maybe just meet new friends. Choose the networking events that work for you.
I'M GOING! Let your friends and followers know that you're attending #PSR22 in Austin! Simply download the image below and upload it to your preferred social network. Don't forget to tag us!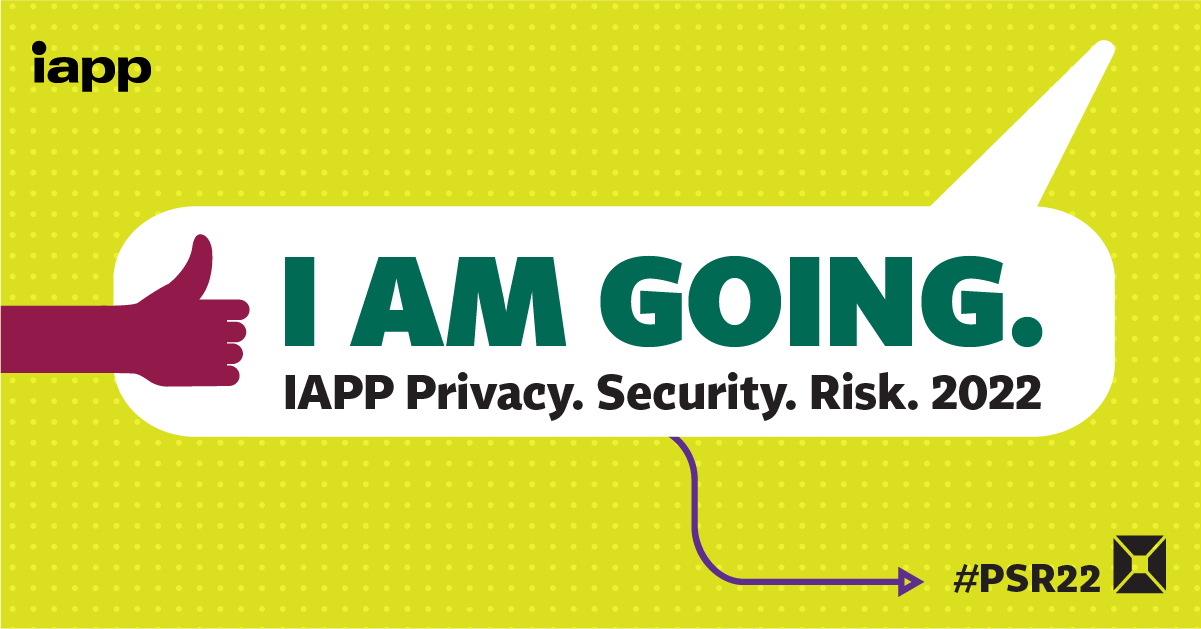 5-Minute Mixer
Wednesday, October 12, 7 – 8 p.m.
Quick, one-on-one mini meetings ensure you meet lots of new people in no time. This is speed networking at its best. Bring your business cards! Refreshments will be provided. Interested in helping to make this event a success? Click here to submit your volunteer application.
Welcome Reception
Wednesday, October 12, 7 – 8:30 p.m.
Food, drinks, fun and friends on opening night, plus a chance to check out this year's exhibitors. Does it get any better?
Sponsored by:

First-Time Attendee Breakfast
Thursday, October 13, 8 – 9 a.m.
Connect with fellow first-time IAPP Privacy. Security. Risk. attendees over breakfast and coffee before the main conference kicks off.
Peer-to-Peer Roundtables
Thursday, October 13, 12:30 – 1:30 p.m.
Select a topic and take a seat at the table. Connect with fellow attendees over small, interactive and lively discussions. Interested in leading a discussion? Click here to submit your volunteer application.
Sponsored by:

Inclusive Privacy
Sri Maddipati, Google
Party in Austin
Thursday, October 13, 5:30 – 7:30 p.m.
Wrap up the day at one of Austin's iconic eateries. Enjoy food and drinks with your colleagues at Banger's sausage house and open-air beer garden in the historic Rainey Street District.
Location:
Banger's
79 Rainey St.
Austin, TX 78701
Mentor Mingle
Friday, October 14, 1 – 2 p.m.
Are you a seasoned privacy pro looking to share your experience with a newcomer? Or are you fresh to privacy and looking for guidance on navigating the industry? Whichever group you fit into, this networking opportunity is for you. Connect with another privacy pro and learn by teaching or being taught. This is where big names in privacy nurture the next generation of big names in privacy. We will provide icebreakers to help you get started. Volunteer to be a mentor here.
Industry Meet-Ups
Network with other professionals looking to help advance and support colleagues in the privacy field. Connect with fellow privacy pros involved or interested in higher education, energy and utilities, adtech, cybersecurity and more. Submit your volunteer application to lead a Meet-Up today. Check back soon for more information.
Thursday, October 13
10 – 10:30 a.m.
LGBTQ Meet-Up
Women Leading Privacy and Security Section Meet-Up
2:30 – 3 p.m.
Adtech Meet-Up
Diversity in Privacy Section Meet-Up
KnowledgeNet Volunteer Meet-Up
Friday, October 14
10 – 10:30 a.m.
Cybersecurity Meet-Up
Privacy Bar Section Meet-Up
Privacy Engineering Section Meet-Up
The IAPP Engagement Hub
Thursday, October 13, 8 a.m. – 5:15 p.m.
Friday, October 14, 8 a.m. – 2 p.m.
Join us for pre-scheduled meet-ups and mingles or schedule on your own with colleagues, new and old, in this networking space.
IAPP Central
Thursday, October 13, 8 a.m. – 4:15 p.m.
Friday, October 14, 8 a.m. – 2:15 p.m.
IAPP Central is your privacy hub, where you will find up-to-the-minute resources and tools to help you and your organization meet your challenges head-on. Just tell us what you need — we are here to help.
R&R Lounge
Thursday, October 13, 8 a.m. – 5:15 p.m.
Friday, October 14, 8 a.m. – 4:30 p.m.
Plug in and recharge, network, or just get a few minutes of work in.
Volunteer Today!
If you want to get even more from P.S.R., get involved. We are currently seeking volunteers. Please check here to learn more about available opportunities and to apply for a volunteer role.
Note: Volunteers do not receive complimentary conference passes, but they do receive our unyielding gratitude and respect! Please ensure you are registered for the conference before you apply.
Networking at P.S.R. 2021