Networking+
IAPP Privacy. Security. Risk. is the hub where the privacy and infosecurity worlds intersect — the perfect place to make valuable new connections. And this year, there are more opportunities than ever.
I'M GOING! Let your friends and followers know that you're attending #CPS20 in Toronto! Simply download the image below and upload it to your preferred social network. Don't forget to tag us!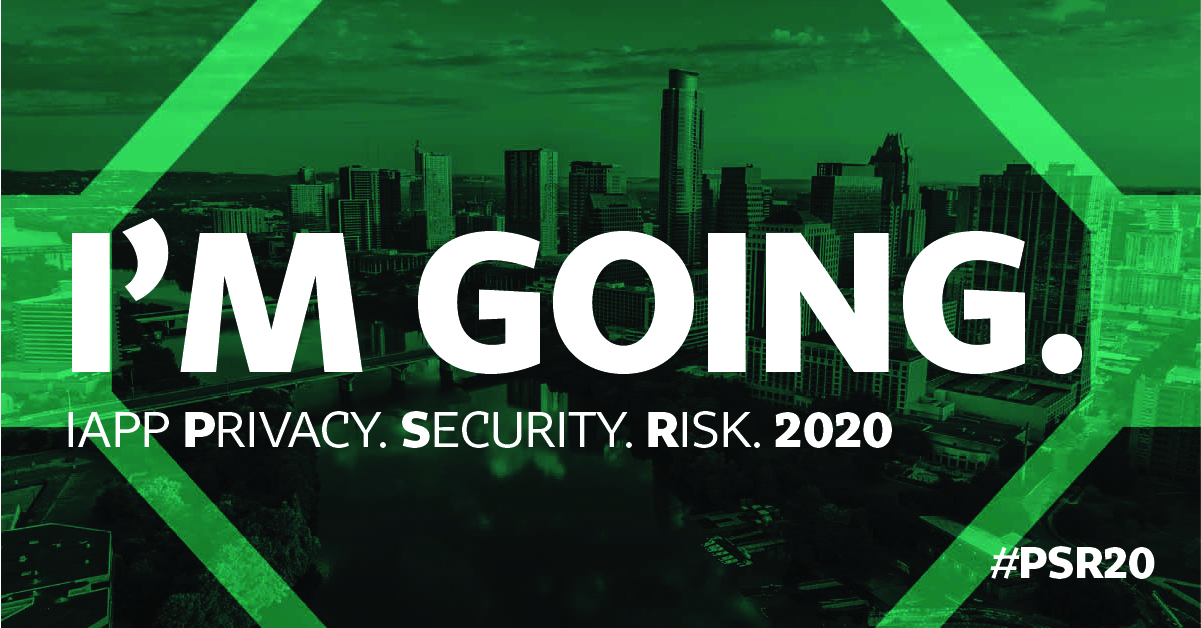 Follow #PSR20 and join the conversation. We look forward to seeing you at IAPP Privacy. Security. Risk. 2020 in Texas this October.
Amp Up Austin Welcome Barbecue
Wednesday, September 30, 7 - 8:30 p.m.
After General Session, head over to Waller Creek Amphitheater at Stubbs Bar-B-Q for the Amp Up Austin Welcome Barbecue under the stars. 
Location:
Stubbs Bar-B-Q
801 Red River Street
Austin, TX
First-Time Attendee Meet-Up
Thursday, October 1, 8 – 9 a.m.
 Meet other first-time attendees during this casual networking event.
Dedicated Show Hours
Thursday, October 1, 2:45 – 3:45 p.m.
See what's going on in the Exhibit Hall without missing any sessions. Food and refreshments during this time will only be served in the Exhibit Hall.
Peer-to-Peer Roundtables
Thursday, October 1, 2:45 – 3:45 p.m.
Select a topic and grab a seat at the table! Connect with fellow attendees over small, interactive and lively discussions.
Currently seeking volunteers who would like to discuss Consumer Communications, Emerging Technologies, Ethics and Social Implications, Global Data Transfers and International Policy, Workplace/Employee Privacy, Privacy and Security, or another topic of your choice.
5-Minute Mixer
Thursday, October 1, 5 – 6 p.m.
Quick, one-on-one mini meetings ensure you meet lots of new people in no time. This is speed networking at its best. Bring your business cards! Refreshments will be provided.
Affinity Groups Happy Hour
Thursday, October 1, 6:15 – 7:15 p.m.
Affinity Group gatherings deliver a unique opportunity for privacy pros with unifying experiences to network with each other. Learn more about IAPP Affinity Groups.
Cybersecurity Professionals, Energy & Utilities, Higher Education, Latin America, LGBTQs in Privacy and Technology, Minorities in Privacy, Young Privacy Professionals.
Mentor Mingle
Friday, October 2, 11:15 – 11:45 a.m.
Are you a mentor or mentee? That's up to you to decide! Choose a badge and see who you find.
Blue means mentor, green means mentee. Don't forget to ask questions. What might you want to know?
How will you connect? Share your card, email, phone number, or scan your LinkedIn QR code before you leave!
Are You Smarter Than a FIP?
Friday, October 2, 1 – 1:30 p.m.
Grab your lunch and come join in the fun at this new quiz-show style event. A panel of three up-and-coming privacy pros will match wits with a team of three Fellows of Privacy Information. The teams will take questions from the emcee and the audience, as time allows. Cheer on your team as you see if our FIPs are as smart as we say they are!
The Meet-Up Lounge
Thursday, October 1, 8 a.m. – 6:15 p.m.
Friday, October 2, 8 a.m. – 3 p.m.
Plug in and recharge, network or just get a few minutes of work in.
Networking at P.S.R.