For Speakers
Welcome, speakers!
Thank you for contributing to the IAPP Europe Data Protection Congress 2021. To help ensure the success of your session, please see these important instructions:
Conference Venue: SQUARE – Brussels Meeting Centre, Glass Entrance, rue Mont des Arts, B-1000 Brussels. Tel: +32 02.515.1300.
Hotel/Accommodations: We've partnered with the Brussels Booking Desk to offer you reduced hotel rates for your trip. You can book through their convenient reservation website, by emailing their booking agent or by calling +32 476 06 67 50. Reduced rates begin to expire 19 October 2021.
Speaker Registration: You will automatically be awarded a complimentary pass to the event and registered as a speaker by IAPP Staff. Your conference pass is eligible all programming and events happening on Wednesday and Thursday, 17-18 November. If you're speaking on a workshop, Tuesday 16 November, your pass will include your workshop. If you would like to add a training or workshop to your registration (additional cost), please contact speaker coordinator Julia Kirchmer at jkirchmer@iapp.org.
Dietary Accommodations: Should you require a special diet please contact speaker coordinator Julia Kirchmer at jkirchmer@iapp.org to indicate your needs before 25 October.
Congress 2021 Speaker Presentation Template: All speakers using a presentation must download and use the IAPP Europe Data Protection Congress 2021 presentation PowerPoint template, found here.
Get social! Use #DPC21 and share with your network that you're speaking at Congress. Join the conversation on Twitter and follow @PrivacyPros and @DailyDashboard for live updates from the conference.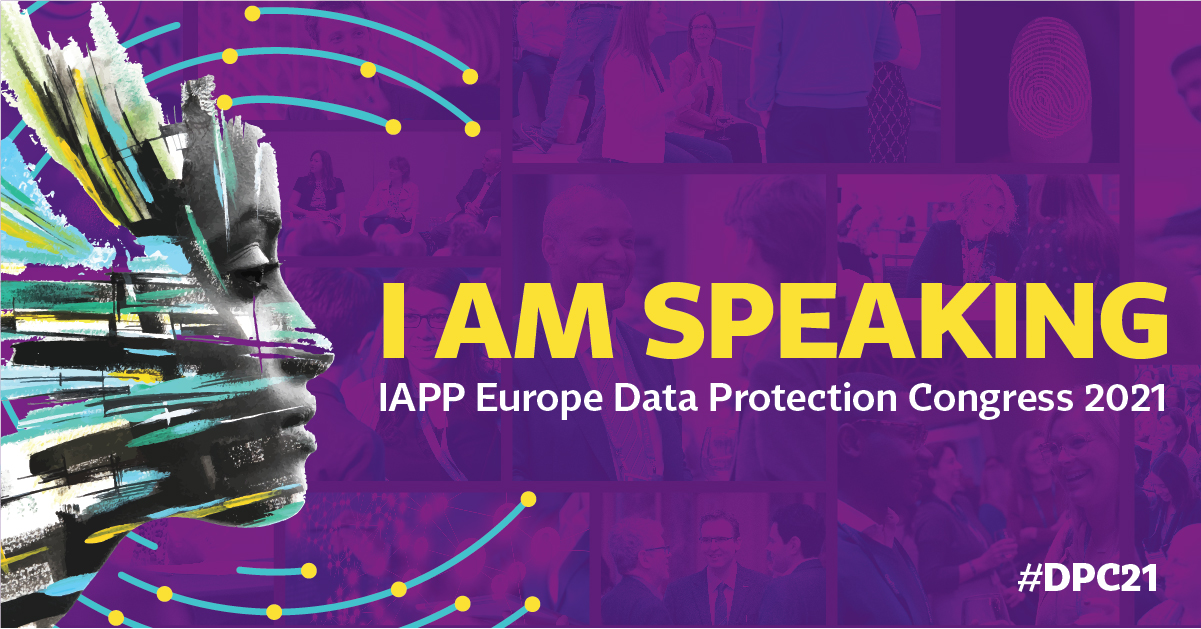 Important Deadlines
Due now: Check the online schedule to see your session date and time.
Due now: Send us your headshot and a brief biography if we do not already have this on file.
30 September: Deadline for initial planning call with co-panellists and chairperson.
5 October, 16:00 CEST: Attend speaker orientation web conference. You will receive an invitation with additional details from your speaker coordinator.
14 October: Send draft presentations to your chair/speaker coordinator.
5 November: Send final presentation to your chair/speaker coordinator.
Additional Programming Information
Need to make a change to speakers, panellists or presentation content? It's important to run it by us. Changes must be approved by IAPP to uphold the quality of our programme and keep our publications current. Please contact Julia Kirchmer immediately if you need to make adjustments.
Please review the Code of Conduct at IAPP events.
Speaker Workroom
This space is just for speakers: your home away from home. Pick up your thank-you gift here, meet the on-site speaker manager, get your questions answered in person, meet with your co-panellists, grab a coffee and a snack, print your presentations, or work quietly if that is what you need.
The workroom is available during the following hours in room "Studio 311":
Wednesday, 17 November, 8:30 - 18:45
Thursday, 18 November, 8:00 - 17:30