General information
---
Location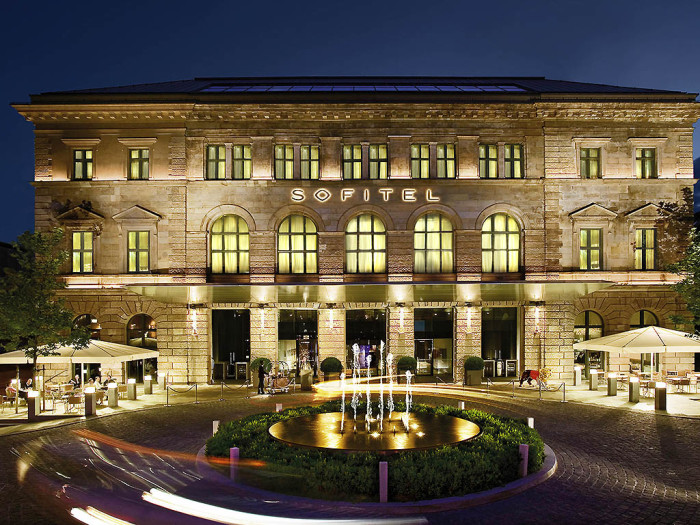 Set in the heart of Munich, the Sofitel Munich Bayerpost blends historic avant-garde architecture with high technology, celebrating both local culture and innovation. It is an ideal setting to explore how far data protection has come, share practical solutions to today's critical challenges, and look ahead to issues surrounding global regulatory compliance and today's technology.
NOTE: Secure your room reservation early. September is a peak tourism month in Munich and we do not have a room block for the conference.
---
Travel
Munich International Airport
https://www.munich-airport.com/
Train station
Munich Central Station
https://www.bahnhof.de/
Munich Transport and Tariff Association (S-Bahn, U-Bahn, bus, tram)
https://www.mvv-muenchen.de/en/
Parking
You may use the hotel's underground parking below the building against a parking fee; all parking spaces are subject to availability. There are 71 spaces available. Fee is 12 € per hour and 43 € per day.
See additional parking resources.
---
Health and safety
The IAPP will continue to follow state, local and venue requirements for meeting safely, plus guidance from the U.S. Centers for Disease Control and Prevention as it relates to COVID-19 and other communicable diseases.
Currently there are no health and safety requirements for attendance. However, we will continue to monitor and communicate developments as needed.
What to expect from the IAPP Data Protection Intensive: Deutschland:
A clean venue, in accordance with the Sofitel Munich Bayerpost Hotel standards.
Respect for personal space.
We ask that you please stay home if:
You are sick or have COVID-19 symptoms (such as fever, a sore throat, chills, cough, shortness of breath, congestion, nausea or vomiting).
You have been directed to self-isolate or quarantine by a health care provider or public health official.
You are awaiting the results of a COVID-19 test.
Please monitor your health throughout the conference and stay home if you begin to feel sick. Please contact us if you have questions.
Air travel questions?
Your airline is the best source for personal safety protocols at the gate and on the airplane. Be sure to visit your airline website the week you are traveling and sign up for notifications related to your trip.
---
Networking
Networking Reception
13 September
17:00-18:00
A fun way to wrap up the day by making or renewing connections with your fellow data protection colleagues face-to-face over food and drinks.
Get social. Let your friends and followers know that you are attending #DPI23 in Munich. Simply download the image below and upload it to your preferred social network. Remember to tag us.
---
General Information
If you wish to speak with someone in German for details about the event, please contact us.
Registration processing: All registrations will be processed by Stova (formerly Aventri). Because we are contracted with an external vendor, you will not be able to see your balance or payment amount when you log in to your MyIAPP portal.
Assistance and accommodations: We are happy to help. If you need any special accommodations (e.g., if you are blind, visually impaired or use a wheelchair), please contact us in advance to arrange for assistance at DPI: Deutschland.
Method of payment: You can make your payment by wire transfer, Mastercard, Visa or American Express. Please contact us for wire transfer information.
VAT information: VAT is not charged on event registration. No VAT invoice will be issued.
Registration policy: Registration fees represent the cost of a single pass per person. Sorry, no sharing passes.
Cancellation policy: Registration fees are not refundable but are transferable to a person in the same company, pending IAPP approval. No refunds if you cancel or do not show up. If you do not cancel prior to the end of the conference, you will be liable for the registration fee. Your completed registration form, online registration and email confirmation constitute binding agreement between two parties.
Conduct at IAPP events: The IAPP is dedicated to making our meetings and events safe places for all. We do not tolerate harassment of any kind. We insist all participants at IAPP events — whether delegates, staff, faculty, exhibitors or sponsors — demonstrate respect and courtesy to all. This includes refraining from inappropriate language, comments and conduct, in person or by electronic communications (such as social media).
Anyone who has experienced improper conduct in violation of this policy is encouraged to report it immediately to IAPP event staff. IAPP staff members are trained to elevate such issues immediately. Alternate methods of reporting issues include emailing IAPP President & CEO J. Trevor Hughes at jthughes@iapp.org or contacting a member of the IAPP board of directors.
The IAPP reserves the right to rescind registration or attendance at any IAPP event, at any time, for violations of this policy.
Privacy notice: We understand you are aware of and care about your own personal privacy interests, and we take that seriously. This privacy notice describes the IAPP's policies and practices regarding its collection and use of your personal data and sets forth your privacy rights. We acknowledge that information privacy is an ongoing responsibility, and so we will, from time to time, update this privacy notice as we undertake new personal data practices or adopt new privacy policies. If you have questions or concerns, please contact dpo@iapp.org.
Tax deductibility: Training expenses, including your registration fee, travel, lodging and meals, may be tax deductible if they are for maintaining or improving your professional skills. Consult your tax advisor. The IAPP federal tax ID is 23-3048008.
Inviting a guest? Please contact us to register for a Guest Pass in advance, or visit the check-in desk on site. They will get to enjoy meals, receptions and entrance to the exhibit hall, for a fee. Guests include a spouse/significant other, friend or adult child (18 or older) who is not in an industry-related occupation. Coworkers or associates in the industry do not qualify.
Photography/video: Please be aware that the IAPP will be taking photographs and video in public areas of the conference (session rooms, exhibit hall, etc.). We may use such media in marketing materials, educational products and publications. Your image and the sound of your voice may be recorded. If you are identified during the recording, or identify yourself by name, that information may be included in our materials. Recordings may be edited, copied, exhibited, published or distributed.
Please note: The views and opinions expressed in sessions are those of the speakers and do not necessarily reflect the positions of the IAPP.
---
Continuing Education
Mandatory continuing legal education credits
We do not apply for MCLE credits for our international events, but you can use the Certificate of Attendance that will be emailed to you after the event to self-report to your state of licensure.
IAPP continuing privacy education credits
If you are looking for continuing privacy education credits, this conference qualifies.
Available credits at the conference: 12 CPEs
To get credit:
You do not need to do anything. Credits will automatically be applied to each designation you hold (if you hold multiple designations, credits will be applied to all). If your credits do not appear on your CPE Summary within 30 days after the event, please contact us at certification@iapp.org.
IAPP networking activities do not count for CPEs.
---
Media
Welcome, members of the media.
This event will offer newsworthy stories from high-profile speakers as well as current trends and issues in data protection today. Programming is open to the media unless otherwise noted.
We can provide complimentary media and industry analyst credentials and assist reporters and analysts with information in advance of the event. Credentials are available only to those formally affiliated with established media outlets and to industry analysts from established firms.
To request media credentials and news releases and advisories, contact: