General information
Conference venue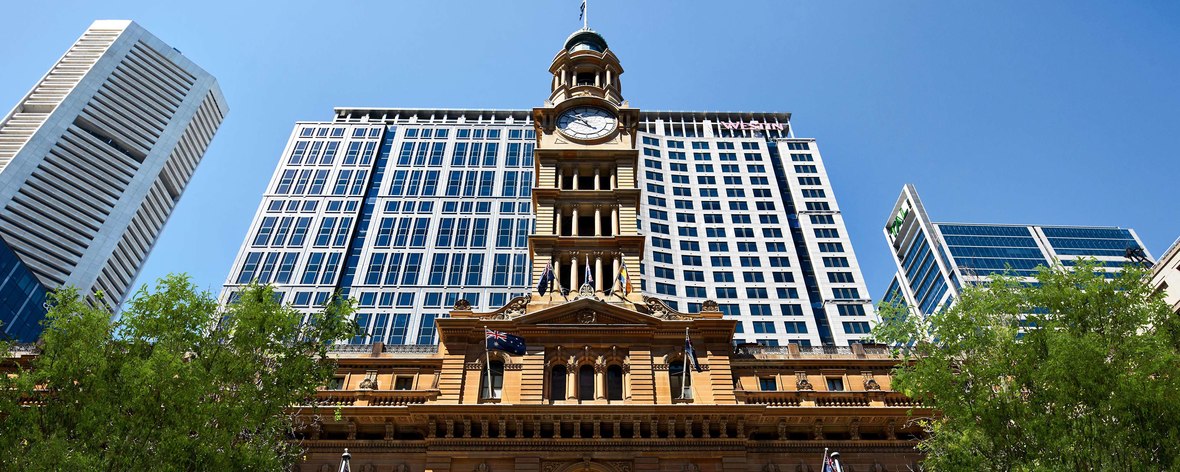 1 Martin Place, Sydney
New South Wales, 2000
Australia
+61 2 8223 1111
Set in an elegant 1891 building, the Fullerton Hotel Sydney is a luxurious, five-star hotel, conveniently located near the Sydney Opera House and Sydney Harbour. A perfect setting to expand your privacy horizons and build your network.
Hotel accommodations
The IAPP is offering a 10% discounted rate at The Fullerton Hotel Sydney. Offer expires Friday, 27 October, subject to availability.
Call +61 2 8223 1111 and reference the IAPP, International Association of Privacy Professionals, or IAPP ANZ Summit.
Travel & parking
Sydney Airport (SYD)
The hotel is 12.4 km from the airport. Hotel does not provide shuttle service.
Click here for The Fullerton Hotel Sydney transportation & parking recommendations.
Networking
Get social. Let your followers and friends know that you are attending #ANZsummit23 in Sydney. Simply download the image below and upload it to your preferred social network. Remember to tag us.
Welcome Reception
Tuesday, 28 November, 17:30 – 18:30
Make connections with professional peers in a relaxed social setting and take the the opportunity to grow your network within the privacy community.
Sponsored by:

General Information
Health and safety: The IAPP will continue to follow local and venue requirements for meeting safely, plus guidance from NSW Health as it relates to COVID-19 and other communicable diseases.
Assistance and accommodations: If you need any special accommodations (i.e. you are blind/visually impaired or require a wheelchair), please contact us in advance to arrange assistance at ANZ Summit.
Dress code: We are an informal bunch. Wear whatever makes you comfortable, no suits required. Plan to wear comfy shoes and dress in layers to adjust to fluctuating venue temperatures.
Method of payment: You can make your payment by debit, Mastercard, Visa, American Express or Discover.
Registration processing: All registrations will be processed by Stova (formally Aventri). Because we are contracted with an external vendor, you will not be able to see your balance or payment amount when you log in to your MyIAPP portal.
A valid IAPP account is required to register for this event. If you do not have an account, click here to create one.
Registration policy: Registration fees represent the cost of a single pass per person. Sorry, no sharing passes.
Cancellation policy: Registration fees are not refundable. No refunds if you cancel or don't show up. Your completed registration form, online registration and email confirmation constitute a binding agreement between two parties.
Cvent Events app privacy notice: In association with attending one or more of our conferences, you will have the option to download the mobile app to help you navigate the conference and plan your schedule. The IAPP has engaged a cloud service provider (Cvent) to host the Cvent Events app which will allow conference attendees to view the agenda, including any last-minute updates to sessions, speaker biographies and venue navigation.
To access the app, conference attendees must download the "Cvent Events" app on their mobile device or access the agenda on Cvent's event-specific webpage, entering a unique event ID which the IAPP will send by email. The IAPP shares with Cvent event registrants' first and last name, email address, and mobile phone (if provided) to allow event attendees to be authenticated when they access the web-based event app, and custom features of the mobile app. More information about Cvent's privacy practices is available in its global privacy notice.
Privacy notice: We understand that you are aware of and care about your own personal privacy interests, and we take that seriously. This privacy notice describes the IAPP's policies and practices regarding its collection and use of your personal data, and sets forth your privacy rights. We acknowledge information privacy is an ongoing responsibility, and so we will from time to time update this privacy notice as we undertake new personal data practices or adopt new privacy policies. If you have questions or concerns, please contact dpo@iapp.org.
Conduct at IAPP events: The IAPP is dedicated to making our meetings and events safe places for all. By attending an IAPP event, you agree to abide by established protocols and guidelines communicated by the IAPP. We do not tolerate harassment of any kind. We insist that all participants at IAPP events — whether attendees, staff, speakers, exhibitors or sponsors — demonstrate respect and courtesy to all. This includes refraining from inappropriate language, comments and behavior, in person or by electronic communications (such as social media).
Anyone who has experienced improper behavior in violation of this policy is encouraged to report it immediately to IAPP event staff. IAPP staff members are trained to elevate such issues immediately. Alternate methods of reporting issues include emailing IAPP President and CEO J. Trevor Hughes at jthughes@iapp.org or contacting a member of the IAPP board of directors. The IAPP reserves the right to rescind registration or attendance at any IAPP event at any time for violations of this policy.
Tax deductibility: Training expenses, including your registration fee, travel, lodging and meals, may be tax deductible if they are for maintaining or improving your professional skills. Consult your tax advisor. IAPP Federal Tax ID 23-3048008.
Photography/video: Please be aware that the IAPP will be taking photographs and video in public areas of the conference (session rooms, exhibit hall, etc.). We may use such media in marketing materials, educational products and publications. Your image and the sound of your voice may be recorded. If you are identified during the recording, or identify yourself by name, that information may be included in our materials. Recordings may be edited, copied, exhibited, published or distributed.
Please note: The views and opinions expressed in sessions are those of the speaker(s) and do not necessarily reflect the positions of the IAPP.
Continuing education
Mandatory continuing legal education
We do not apply for mandatory continuing legal education credits for our international events, but you can use the Certificate of Attendance that will be emailed to you after the event to self-report to your state of licensure.
IAPP continuing privacy education
If you are looking for continuing privacy education credits, this conference qualifies.
Available credits at the ANZ Summit: 10 CPEs
To get credit:
You don't need to do anything. Credits will automatically be applied to each designation you hold (if you hold multiple designations, credits will be applied to all). If your credits don't appear on your CPE Summary within 30 days after the event, please contact us.
IAPP networking activities do not count for CPEs.
Media
Welcome, members of the media
This event will offer newsworthy stories from high-profile speakers as well as current trends and issues in data protection today. Programming is open to the media unless otherwise noted.
We can provide complimentary media/industry analyst credentials and assist reporters/analysts with information in advance of the event. Credentials are available only to those formally affiliated with established media outlets and to industry analysts from acknowledged firms.
To request media credentials, news releases, and advisories, contact: