Here's a list of the movers and shakers in the privacy profession within the last month or so. Have a move or a shake of your own you'd like mentioned? Email Joe Duball at jduball@iapp.org.
Sari Depreeuw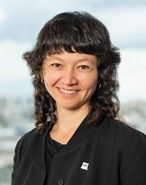 Sari Depreeuw is joining Crowell & Moring as a partner in its Technology & Brand Protection Group. Depreeuw has more than 15 years of experience representing Belgian, European and international clients across various sectors on various digital law matters, including database rights. She has represented clients with complaints before the Belgium's data protection authority. "New regulation will introduce new liabilities for international companies, including U.S.-based companies with European activities," Cromwell & Moring's Kristof Roox said. "Sari's experience with the existing copyright legal framework, combined with her experience in data protection, will be important to clients as they navigate this complex legal arena."
Tanya Forsheit, CIPP/US, CIPT, PLS


Loeb & Loeb named Tanya Forsheit co-chair of its Privacy, Security & Data Innovations practice. Forsheit makes the jump after serving as chair of Frankfurt Kurnit Klein & Selz's Privacy & Data Security Group in Los Angeles. She advises clients on matters involving confidential data and other sensitive information while putting great focus on regulatory compliance efforts in the advertising technology space. "Her ability to interpret and deftly navigate the extensive patchwork of state, federal and international regulations will be an invaluable asset to all of our clients, which include the world's largest media companies, advertisers and agencies," Loeb & Loeb's Jessica Lee, CIPP/E, CIPP/US, CIPM, said. "I'm excited to continue to add to the breadth and depth of our privacy bench."
Photo by Waldemar Brandt on Unsplash
Comments
If you want to comment on this post, you need to login.