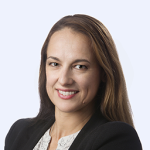 Anna Gamvros, CIPP/A, CIPT, FIP, works in Hong Kong as a partner at Norton Rose Fulbright where she leads the technology and privacy team and co-heads the firm's technology innovation practice for Asia. Gamvros has been in Hong Kong for 16 years and is co-chair of the IAPP's Hong Kong KnowledgeNet as well as a member on the IAPP's Asia Advisory Board. The Privacy Advisor recently caught up with Gamvros, at the end of a typically long day, to find out how she views the privacy transformation in Asia and to learn a little about her, as well.
The Privacy Advisor: What about the last five years has surprised you about working in this industry, if anything? What has been different than you might have expected?
Gamvros: If you stepped back 10 years and looked forward, you would never have expected the last five years to be so fast moving and intense on privacy regulation. Looking back now, it almost doesn't seem surprising. We've gone from a region that had a couple of countries with privacy laws, some of which were industry-specific and some of which were an omnibus of standalone privacy laws, to a quite heavily regulated environment where many countries have introduced privacy laws. What has surprised me is the speed at which all that has happened, especially in a region where privacy regulation, probably seven years ago, was not unheard of, but not common.
That said, at the moment, particularly in China, data is king. Any of the companies thriving in China's technology space are doing so on a gold mine of data.
The Privacy Advisory: What kinds of differences do you see between cultural privacy expectations in Asia and expectations in other regions of the world?
Gamvros: Privacy expectations have changed a lot in that same five year period, particularly the 10-year period. If you look at the last five years, the reason we've had a lot of development in the privacy regulation space has been a combination of political factors, business drive from countries who are trying to bring themselves on as outsourcing hubs, and from a lack of privacy laws that have resulted in countries being unable to protect individuals. It's the latter category, which has increased people's awareness and changed expectations of privacy rather than a fundamental human right. There is growing awareness amongst people that privacy and identity are particularly valuable.
The Privacy Advisor: How is the job market in Asia for privacy pros?
Gamvros: With all that said, the job market is pretty good. Particularly in Hong Kong and Singapore, where you've long had regional hubs for legal teams, you now see them becoming regional hubs for privacy teams. Hong Kong has the oldest privacy regime in the region and while Singapore's privacy regime and regulators are relatively new, it is one of the more developed. A few years ago, there were very few dedicated privacy professionals in Asia. I would see many people with privacy as a part of their role, but now you are seeing regional privacy leads in many organizations, creating a lot of opportunities for people to take on those roles. It's quite a different landscape now. 
The Privacy Advisor: Do you see a shift in the way innovators and technology companies are handling privacy in recent years?
Gamvros: As a general point, we are seeing more companies trying to utilize privacy as a competitive advantage. Rather than being data hungry all the time, companies are trying to give control back to their customers and make it part of their customer proposition. That said, at the moment, particularly in China, data is king. Any of the companies thriving in China's technology space are doing so on a gold mine of data.
The Privacy Advisor: Why do you volunteer with the IAPP? 
Gamvros: For me, I really enjoy the community. I like bringing together privacy professionals who, in this region, can be quite isolated and without any real peer support. I always find that when I help coordinate events, people have a lot to talk about with peers who are in similar roles in other organizations. It creates an opportunity to get to know people who are doing privacy in the region.
The Privacy Advisor: What do you enjoy doing when you're not working? 
Gamvros: First and foremost is hanging out with my husband and kids. They don't get enough time with me generally. Then on top of that, I'm quite a sporty person so I take on various sporting endeavors from time to time. My latest endeavor is obstacle racing, it's trail racing combined with sliding through mud, under barbed wire, and climbing across monkey bars. It gets me out from behind my desk and into the great outdoors. 
The Privacy Advisor: What's your advice to newer privacy pros entering the field? How do they succeed?
Gamvros: Particularly in Asia, privacy professionals have a lot to learn with so much going on. Often, they are going to be the only person in their organization dealing with privacy, so getting to know your privacy peers is key. There is a lot of vagueness around what's going on in the region, and I know from dealing with privacy professionals in different organizations that they give each other a lot of comfort by talking to others who are dealing with the same issues.  
Comments
If you want to comment on this post, you need to login.