Privacy and Cybersecurity Partner Aaron Simpson will join Hunton & Williams' London office from its New York Firm, the company announced in a press release. "There is growing European interest in the U.S. Privacy Shield and in cybersecurity issues, areas in which Aaron has particular experience," said Bridget Treacy, managing partner of the firm's London office. "I am delighted to have Aaron on board; having him in London adds additional strength and capacity to our team here, enabling us to better serve our local clients." Simpson assisted in creating Hunton & Williams' global privacy practice 15 years ago, and he expressed excitement about contributing to the firm's current growth. "Our client roster is internationally renowned, and the monumental legal and political changes in the U.K. and Europe have created unprecedented challenges for multinationals seeking to successfully navigate the changing landscape," Simpson said. "I look forward to helping our clients overcome these challenges."
---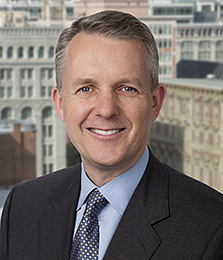 Venable has appointed Charles Curran, CIPP/US, as partner in its Washington Privacy and Security practice, the firm announced in a statement. "I've had the privilege of working with Chuck for more than a decade on some of the most important legal and policy issues in online advertising," said Venable's Stuart Ingis. "A thoughtful and effective problem solver, Chuck was a leading voice in the launch of the successful cross-industry self-regulation of interest-based ads. His background and experience are unparalleled and will be a valued asset for our clients." The transition comes after more than 20 years of experience with regulatory issues, having served as Executive Director and General Counsel of the Network Advertising Initiative  and with AOL's legal team in many different capacities. 
---
Renzo Marchini has joined FieldFisher's Privacy, Security and Information practice as partner, the company said in a press release. "We have ambitious plans for the growth of what is already a market-leading group," said FieldFisher's Hazel Grant, CIPP/E. "Renzo is an established expert in this field and he will undoubtedly be a great addition to our London team of 15 full time privacy lawyers." Formerly of Dechert and author of "Cloud Computing: A Practical Introduction to the Legal Issues," Marchini is excited to join FieldFisher. "The firm's vision for the growth of its data privacy team, and broader technology group, fits well with my own objectives and I'm looking forward to contributing to the future success of the firm," he said. "It is an exciting time for the firm and these practices and I am delighted to be joining them."
Comments
If you want to comment on this post, you need to login.