Here's a list of the movers and the shakers in the privacy profession within the last month or so. Have a move or a shake of your own you'd like mentioned? Email mhulefeld@iapp.org.
Ari Levenfeld and Guinevere Jobson
Quantcast, a technology company specializing in artificial intelligence driven real-time advertising, audience insights and measurement, announced two hires to its privacy team. Ari Levenfeld will join as chief privacy officer, and Guinevere Jobson will join as senior corporate counsel. Levenfeld will be responsible for the company's global privacy strategy, regulatory compliance and risk management advisory. Previously, Levenfeld served as CPO for Sizmek and Jobson joins from Fenwick & West.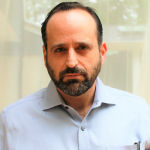 Dataguise announced Sagi Leizerov has become its new senior vice president of enterprise privacy solutions. Leizerov previously served as chief data solution officer at Prifender and as global privacy leader at Ernst & Young. Leizerov is also a member of the IAPP's board of directors. "I'm excited to join the Dataguise team, as I believe the company is well positioned to lead in the privacy technology space with two unique advantages over the multitude of new entrants to this field," said Leizerov.
Comments
If you want to comment on this post, you need to login.