The International Association of Privacy Professionals named Henriette "Jetty" Tielemans winner of its 2018 IAPP Privacy Vanguard Award. Tielemans accepted the award the IAPP's Global Privacy Summit March 27.
The IAPP Privacy Vanguard Award is reserved for individuals who display "exceptional leadership, knowledge and creativity in the field of privacy and data protection, whether through spearheading projects or programs that positively impact the profession or through achievements over the course of an entire tenure or career."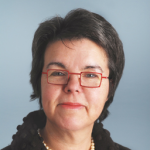 Partner at the Brussels office of Covington & Burling and co-chair of the firm's global privacy and data security practice, Tielemans advises multinationals on all aspects of EU data privacy and security. Having opened the firm's office in Brussels in 1990, Tielemans had her start in competition law but volunteered to lead privacy when it came up, allowing her to become involved from its genesis.
When she started in the field, she said people used to ask her what being a privacy lawyer meant. Now, she said, they don't ask that anymore, as privacy has entered into everyday life.
"I always say we got on the train while the train was still standing in the station. Where now, it's riding a 150 kilometers an hour, and you kind of need to jump on, which is obviously much harder."
Upon hearing she was selected as this year's recipient, Tielemans said, "I think it's more than anyone can dream of," she added, "An award is always nice, but to be chosen among peers, it never occurred to me that I would be the recipient of this award. When Trevor [Hughes, IAPP president and CEO] called me, there was a long moment of silence."
Hughes called Tielemans one of the leading voices on data protection in Europe, and said it was appropriate to recognize the continued expertise, leadership and excellence in the field. He added that Tielemans was an easy pick for the award.
"Jetty has navigated some of the trickiest cases, some of the most challenging issues that have emerged in data protection, and she has done it with an easy and self-effacing grace," he said. "She is the most disarming and charming human on the face of the planet and those qualities about her make her one of the most effective privacy professionals we have."
Hughes added, "In terms of getting things done, building community, and moving our field forward, Jetty has done all of those things in incredibly powerful ways. She is an incredibly easy choice for the award."
Tielemans was quick to clarify that she is accepting this award on behalf of the 60 other privacy lawyers at Covington Burling. She said, "It is part of our DNA [at Covington] to have a very collaborative structure. We just celebrated our 100th anniversary, and that collaborative spirit has been there since day one." Tielemans added, "The award is for every single one of them, rather than just me. I'm just the lucky recipient and I speak on behalf of all."
Tielemans also serves on the IAPP's board of directors and on a European Commission-designated five-member expert group, focused on discussions aimed at revising the 1995 Data Protection Framework Directive.
Comments
If you want to comment on this post, you need to login.