Perhaps you don't have a favorite team playing in the Super Bowl. Of course, it's no fun watching without a rooting interest. You're wondering to yourself, "Hmmm, who am I going to root for here?" 
Let me help you with that. It's quite clear that the New England Patriots are the privacy professional's pick. 
But, but, but, you say, what about Spygate! They're cheaters and engage in covert surveillance and whatnot! Marshall Faulk told me so!
Let's revisit that just for a bit, shall we? The taping that took place during Spygate was done by a Patriots employee, wearing Patriots garb and a name tag, on the sidelines of a nationally televised football game. Sounds like transparency to me! And the "taping of the Rams practice" before the first glorious Patriots championship never happened. The Boston Herald actually apologized for its report to the contrary.
And just think of the way their collective image was tarnished by Deflategate. Just because some lunkheads in the NFL front offices can't wrap their heads around the Ideal Gas Law, the Patriots not only had their names smeared online, but also lost the services of their all-world quarterback, Tom Brady, for four games, mostly because he undertook privacy best practices and destroyed his old phone's SIM card when he got a new one. 
If anyone deserves a refresh of his online presence via the right to be forgotten, it's Tom Brady and the New England Patriots. I'm sure Google is delisting all references to "deflategate" right about now. 
Now, of course, Super Bowl week brings yet more snarky nonsense about the Patriots and their supposedly nefarious ways. Falcons offensive coordinator Kyle Shanahan loses his backpack for 30 minutes and here come the weak jokes:
format_quoteHard to blame this one on anyone but Shanahan. When you're playing the Patriots, you have to make sure your OPSEC is airtight.
I mean, oh ho! But, now that you mention it, ever hear of a leak from the Patriot locker room? Any Patriots coordinators ever lose their playbooks during their NINE trips to the Super Bowl? Clearly, they've got their information governance on lockdown, folks. 
Maybe you've even heard people like Doug Gottlieb, with his CBS Sports Minute thingee, try to make a funny about the whole Shanahan situation being a Patriots plot. Hey Doug: You, yourself, note that the "playbook" is actually a password-protected iPad. I'm guessing if the U.S. government had to call in some secret Israeli firm to crack the San Bernardino iPhone, the Pats probably weren't able to crack that iPad in the 30 minutes it was missing. 
Unless, of course, Shanahan's password is "1234," and, then, well, they deserve whatever they get for lax training protocols. 
With that settled, there's not much to do but sit back, relax, and wait for the game to start. I can assure you, Coach Belichick is getting a good night's sleep: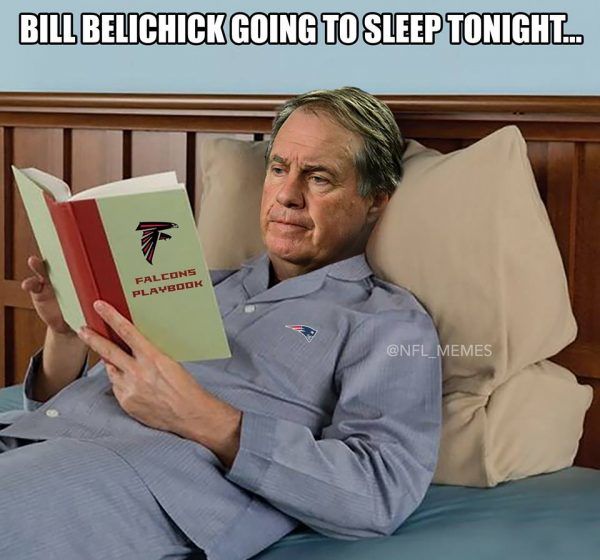 3 Comments
If you want to comment on this post, you need to login.
comment Patrick Kenny • Feb 3, 2017

Respectfully, I disagree.  

Spectacles like the Super Bowl are essentially modern-day incarnations of ancient Rome's gladiatorial games, "panem et circenses" (i.e. breach and circuses), meant to distract the populace from matters of state, so the governors could continue governing, without wasting time on challenges from an informed and engaged citizenry.  

Globally, there has rarely been a more important time for the public to challenge their governments' concepts of privacy and the erosion of related rights.  Challenges that ought to come from privacy pro's like the IAPP membership.

So then, I submit that a TRUE privacy professional rejects the Super Bowl altogether,  sees through the illusion of its relevance, and keeps their attention focused on the increasingly bold shenanigans of their governments, before all is lost!

Hail Caesar!
Patrick

comment Sam Pfeifle • Feb 3, 2017

Well, Patrick, I must say that I admire your stance. Unfortunately, I'm afraid I would have enjoyed the heck out of gladiatorial games in the Coliseum.

comment Brooks Dobbs • Feb 3, 2017

Okay since we mentioned deflategate, and we're all privacy pros here, let's think of deflategate and the Patriots in terms of cookie compliance.
  
On the one hand, though they get a ton of attention, we may all agree cookies are very likely not the biggest privacy issue we face today.  It is kind of like suggesting balls under inflated by 2 pounds are the root cause of losing by 38 points (when we all know the root cause of this will be MVP  Matt Ryan to Julio Jones and/or 12 other record setting TD catching receivers).

On the other hand, facts matters (insert your own political references as needed).  I don't think any privacy pro today feels entirely comfortable with the specific, informed, unambiguous and freely given consent they have for every 5th party cookie on every one of their sites, but equally I don't know any who'd allow two, $30k/year webmasters (if there were such a thing) to take the fall for lack of cookie consent as $120 million net worth Mr. Brady did to his ball boys.

So in summary... If you are for the Pats, your cookies are unabashedly out of compliance, you have no intention of hiring a DPO to do privacy inflation monitoring, you support alternative facts and the undoing of Privacy Shield,  and you likely stand in contravention of all privacy legislation.  GO FALCONS!!!