"The Big Nine," written by Amy Webb, presents a critical and thought-provoking examination of the ethical pitfalls and biases facing humanity in its pursuit and exploration of artificial intelligence.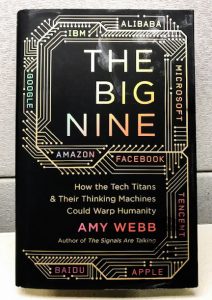 From the obvious to the obscure, "The Big Nine" does an excellent job of bringing these issues to the forefront and forcing the reader to examine and critically think about various realistic issues and their implications that we face along with the impact of our own biases. It quickly discards the Hollywood representation of artificial intelligence and takes the reader on a journey, meandering down the river as an expert tour guide, calling out past biases, both implicit and explicit and their impact on present and future development of the technology, its uses and the results.
It does an excellent job of presenting the existing and future challenges, recognizing political realities and commercial pressures and artfully presenting them in a manner that keeps the reader engaged without being overwhelmed. From raising the concerns with respect to the design of the AI to the political/economic drivers in its development, "The Big Nine" represents a clear picture of the realities of the current AI structure. It recognizes that the development and creation of AI were traditionally driven by a certain economic/education class with a favor toward specific schools, which lead to biases that are in the underlying fundamental code and have been driving AI.
It also differentiates the political and economic drivers of the two major developers of AI, recognizing that development and tools in China are fundamentally influenced by the Communist Party — favoring long-term strategic planning and behavior change — while the U.S. is driven by short-term economic goals, bending and flowing to the whims of Wall Street.
It does, however, stay away from a technical examination of the technology and the regulatory approaches, but provides a broad overview of the various uses of the technology and its implications colored by the various influences that cause intended and unintended biases. Where it is challenged is in the area of the privacy implications that the implementation of AI will have. It fails to grasp the potential impact, regardless of the bias that it identifies. It is, however, a must-read for any individual who intends to implement AI in any meaningful manner, enabling them to understand the underlying biases and manage them, while still understanding that there are significant privacy concerns/implications.
Approved
CIPM, CIPP/A, CIPP/C, CIPP/E, CIPP/G, CIPP/US, CIPT
Credits: 1
Comments
If you want to comment on this post, you need to login.