By Sam Pfeifle
Publications Director
A couple of months back, we told you about Data Dealer, a browser-based game that both tweaked the data brokerage industry and educated players about how PII is collected and sold in the global marketplace. Not long afterward, the team of open source coders and developers at Cuteacute Media who have been working on Data Dealer launched a Kickstarter campaign to raise funds that would allow them to take Data Dealer from the demo stage to a full multi-player game.
Their campaign was ambitious: They hoped to raise $50,000 in about three weeks. Thus far, they've come up with more than $38,000. Not bad, right? Here's the catch. With Kickstarter, you only get the money you've been pledged if you raise the whole nut. If the Data Dealer developers don't get to $50,000 by end of day on July 11—about 53 hours from this writing—they get nothing.
Check out their Kickstarter page here.
Thus far, it's not just us here at the IAPP who have been enamored of the game. Data Dealer has received favorable write ups in the New Yorker, Fast Company, ProPublica and Mashable, just to name a few, and took home a Games for Change Award in June.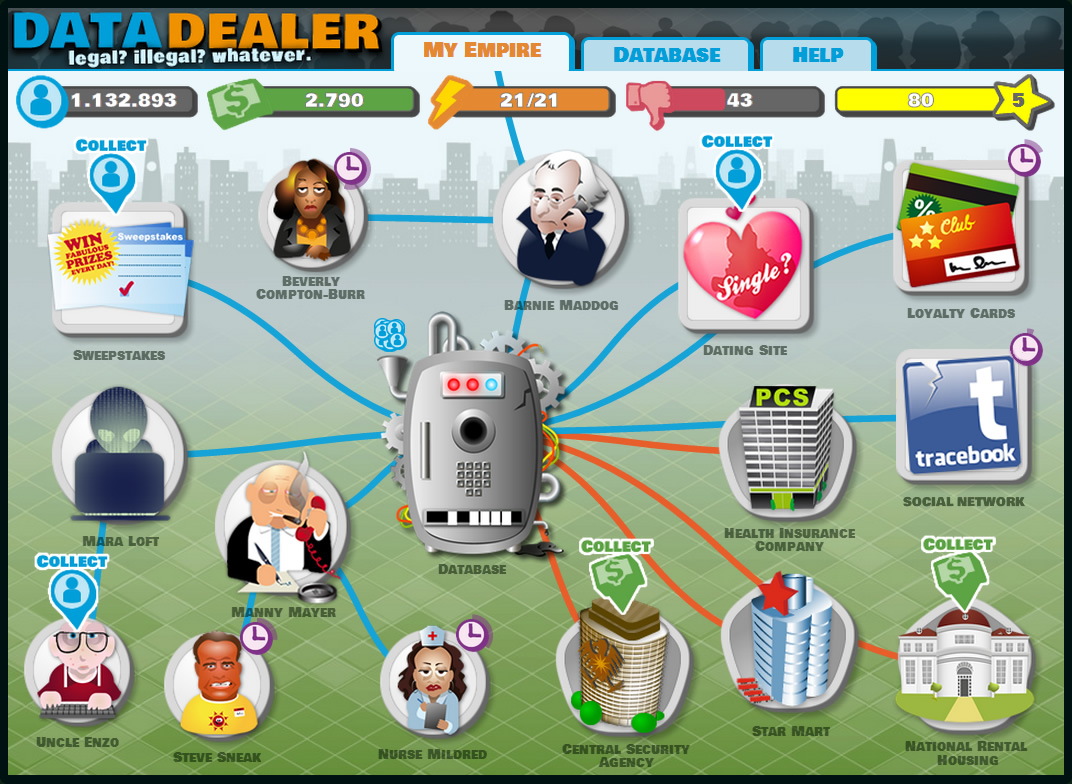 Of course, all of this development came about before the recent NSA revelations that have put privacy in the mainstream discussion. Wolfie Christl, one of the developers, has now jokingly been calling Data Dealer "PRISM: The Game."
"Today virtually everything we do is recorded, monitored or tracked in some way," Christl said via e-mail. "I believe that it's crucial for people to understand 'personal data' and its value before they will be able to make a self-determined use of it. That's where we're trying to step in."
He noted the game will always be 100-percent free to play and is even licensed under Creative Commons.
"There are several future partnerships in preparation," he said, that could push Data Dealer further into the public consciousness, "but to realize them, we'll have to survive the next couple months. That's why we have launched a Kickstarter for a funding injection."
Should you have an inclination to keep their work moving forward, well, there's no better time than now.
Read More By Sam Pfeifle:
How UI and UX can KO privacy
IAPP Members in the News PRIVACY IN POPULAR CULTURE: This NSA PRISM Story Isn't Funny … Except When It Is
EU Regulation Roundup: Move Toward Business-Friendly; May Be No Vote until December
Lane Powell LLC Launches Privacy and Data Security Practice
Comments
If you want to comment on this post, you need to login.