Perhaps the newest rage in privacy circles will be a series of paraphernalia inscribed with "WWBD," short for "What Would Brandeis Do?"
For, on the 100th anniversary of privacy pioneer Louis Brandeis' appointment to the U.S. Supreme Court, that's just what Jeffrey Rosen explores in his new book, "Louis D. Brandeis, American Prophet," published by Yale University Press.
Brandeis could very well be considered the center square for a privacy BINGO board, but Rosen's book does more than appeal to the obvious constituency of readers with interests in privacy, the Supreme Court and constitutional law. It should also appeal to anyone with an interest in economics, big business, states' rights, religion, and philosophy.
Rosen's book provides readers with a full picture of what made Brandeisian ideals truly prophetic and relevant to today's national discourse. The quick 200 pages consist of an introduction, four chapters, and an epilogue, with the introduction and epilogue essentially chapters worth reading in their own right.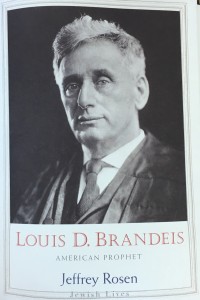 As Rosen notes in the introduction, his book is not a traditional biography, as other well-written biographies on Brandeis already exist. Instead, Rosen provides shape and definition to Brandeis' philosophical approach to justice, economics, and religion using anecdotal stories from Brandeis's life and relationships. Brandeis fortunately was an avid letter-writer and many of the stories are gleaned from these letters to provide insight for the reader.
A work of creative non-fiction, it often reads as much like a novel as anything else.
The introduction peppers the readers with comparisons between Brandeis and other philosophers, such as Thomas Jefferson, Wendell Holmes, and Alfred Zimmerman. These comparisons develop the philosophical framework that Brandeis refined throughout his life and career, and which offers real lessons for the turmoil of contemporary political discourse.
Brandeis, for instance, felt it was essential in all things to have knowledge of the facts involved before reaching judgment. It is a philosophy he would especially encourage Americans to embrace in 2016, in such a hotly contested political year. To gain an intimate knowledge of facts, Rosen explains, Brandeis supported a shorter workday so the American people could engage in "leisure time." Rosen clarifies that leisure did not mean "idleness"; it meant time to engage in intellectual growth outside of "breadwinning." This also fed Brandeis' ability to be open to ideas and for his own understanding of issues to evolve with changes in time and culture.
Brandeis and his law partner Samuel Warren are credited with creating the "Right to Privacy" through their article published in the Harvard Law Review in 1890. One element of this right was the ability for citizens to remove embarrassing information from public debate, even if it was true, similar to Europe's modern "right to be forgotten." Rosen poses that Brandeis' views on privacy evolved during his career, and that by the end of his career in 1939 he may no longer have supported some of his initial thoughts in 1890. For example, Brandeis "came to believe that we don't need to choose between privacy and free speech because far from clashing with democratic values of public debate, intellectual privacy is essential to it."
Brandeis's privacy influence also extended to the executive branch in his advising of Woodrow Wilson before his appointment to the Supreme Court. Wilson's administration formed the Federal Trade Commission, as well as the Federal Reserve and enacted the Clayton Antitrust Act with Brandeis' input.
format_quoteAs a justice, Brandeis believed opinions should be as narrow "as possible to avoid broad constitutional rulings."
After his appointment to the Supreme Court in 1916, Brandeis penned an impressive 455 majority opinions and 65 dissents for an average of about 23 opinions per year. Brandeis's approach to opinion writing was formulaic and fact based. As a justice, he believed opinions should be as narrow "as possible to avoid broad constitutional rulings." Brandeis was not rigid, though; he thought the values of the American founders were immutable, but had to be "translated" with respect to "changes in society, technology, and economics." Rosen demonstrates that this approach made not only Brandeis' majority opinions, but also his dissents, prophetic by outlining the lasting impact of several key cases.
In Brandeis's International News Service (1918) dissent, he cautions against extending property rights to ideas and correspondingly hints at the concept of today's third-party doctrine; "after voluntary communication to others," knowledge becomes "free as the air to common use."
Brandeis further explored the connection between freedom of speech and privacy in his Gilbert v. Minnesota (1920) dissent. He emphasized the importance of the ability to speak freely "in any place," especially in the home.
While Brandeis' opinion in Whitney v. California (1927) is best known for its support of free speech, Brandeis's privacy philosophies are evident when he calls for the government to "make men free to develop their faculties" and quotes Jefferson to support allowing citizens to be "left free to demonstrate their errors." This "constitutional poetry," as characterized by Rosen, harkens back to Brandeis' concept of "the right to be let alone" in his 1890 article.
Brandeis's capstone privacy prophecies are found in Olmstead v. United States (1928). Brandeis' dissent in Olmstead illuminates how his ideas adapted to evolving technologies, in this case electronic searches via a phone tap. Brandeis explained that to ensure the same protections intended by the framers of the Fourth and Fifth amendments, those amendments need to be read to prohibit warrantless searches and seizures of conversations obtained without a physical invasion as well as effects obtained with a physical invasion.
So WWBD today with free speech, privacy, and new technologies? We won't spoil the book by revealing Rosen's analysis of modern day issues, but it's clear Brandeis' approach would include a number of things that have been perhaps pushed aside a bit in today's fast-paced world.
He would likely encourage engaging in "leisure" activities that promote liberty and freedom, rather than hyper-connectivity. Maybe his factual and formulaic approach to writing opinions wouldn't jibe overly well with Twitter. As for being open to evolving ideas? He'd probably be accused of being a "flip-flopper."
This book is highly recommended reading for privacy professionals, philosophers, politicians, and economists alike. And perhaps those running for political office and the media that covers them.
1 Comment
If you want to comment on this post, you need to login.
comment Stuart Ritchie • Jun 3, 2016

Thanks Anna, I wasn't aware of this. Another Brandeis book! It'll be interesting to see how far Professor Rosen has developed his views about Brandeis, notional free speech, and the EU RTBF after his book review a year ago https://www.washingtonpost.com/opinions/clash-between-free-speech-and-privacy-in-the-digital-world/2015/03/20/bee390e6-c0f8-11e4-ad5c-3b8ce89f1b89_story.html. (In my view, though presaged for many decades, since the Yahoo cases ten years ago this has been creeping up on us as THE iconic economic and cultural issue of the first half of the 21st century)