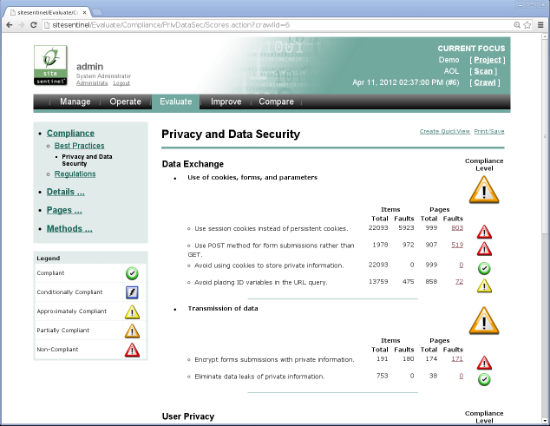 Site Sentinel is a website data-flow auditing system that enables publishers, developers and auditors to ensure the data security and privacy of web applications and their users. The system remotely scans targeted websites and identifies data-handling issues that typically occur in the user's browser but are caused by the structure of the web content. These weaknesses stem from excessive links to third-party objects, inappropriate use of cookies, exposure of form data and integration with social media and other services via external JavaScript. Site Sentinel runs as a network appliance with a web-based interface and produces a wide spectrum of reports, including graphical risk scorecards for quickly identifying problem areas and low-level technical reports for resolving issues found. The system is intended to assist organizations with disparate web assets in complying with internal policy, government legislation and industry standards. The product is developed by Ehrlich, Wesen and Dauer, a Pennsylvania-based software developer specializing in privacy and data security on the web.
MiniLock is file encryption software that uses your email and a secret passphrase to generate a miniLockID. Anyone can use your ID to encrypt files to you, and you can encrypt files to friends using their miniLock IDs. It's audited, peer-reviewed software developed by experts using crytopgraphic standards.
Conformance Technologies has launched its Data Incident Management Program, a suite of services providing assistance in the event of a data incident to enhance business performance by saving time and money. The program's components include data incident forensics, POS equipment or software replacement, consumer notifications, legal notifications and public relations management services.
Boolean Tech has introduced StitMe, which means "Shield Me" in Czech and aims to change the way mobile numbers are used. Users are able to use their names as their mobile numbers and can connect with each other by using a StitMe ID, such as #JANEDOE, and a unique privacy connection is assigned to every contact. When users make outgoing calls, the recipient's caller ID will show the unique "StitMe Privacy Protected Connection Number" instead of users' personal mobile phone numbers, meaning the actual mobile number is never exposed. Users may also preset the days and hours they will allow calls to come in from contacts, and a delete button allows users to stop receiving calls from any given number permanently. The product also features a secured chat function.
Comments
If you want to comment on this post, you need to login.