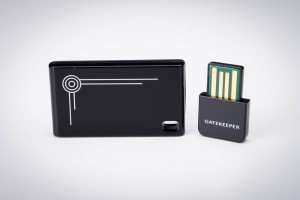 Untethered Labs announces the Gatekeeper, a tool which it calls "a wireless lock and key for securing corporate data." The device comes as a key fob, which automatically logs off of the user's synced devices when the user walks away and out of range, protecting device data and also permitting users to easily find missing connected items. 
Covertix's newest offering is SmartCipher, a program that encrypts user email for heightened protection and security regardless of where the email ends up. Features include user-specific access, administrator email type classification and the ability to work in conjunction with Google Business or Outlook. 


ThreatSTOP's "software-as-a-service" cyberattack protection system boats a program-wide upgrade, which includes "audited security protocols," accelerated performance, and a greater level of fortitude against "brute force attacks" while still employing DNS to protect both cloud programs and on-site devices. The service is cloud-based and works in conjunction with "leading software firewalls and DNS servers."
Comments
If you want to comment on this post, you need to login.