Tech solutions are increasingly a part of a privacy pros' purview. Here's a look at a crop of new privacy- and security-based tools that should maybe be on your radar. 
---
GDPR Privacy Awareness Solutions

MediaPro has released an e-learning tool to help companies better comply with the GDPR: the General Data Protection Regulation Privacy Awareness Solution. The program has a "tier framework" that allows buisnesses to chose the type of service they need depending on where they stand with their GDRP prep. Each tier uses the "Adaptive Awareness Framework" for adult e-learning: analyze, plan, train, and reinforce. Demos may be scheduled on the MediaPro website. 
---

In the wake of the repeal of the Federal Communications Commission's broadband privacy rules, Reddit user /u/FascinatedBox has created a tool that trashes users' history, making gleaned data worthless. The free device is basically a webpage utilizing pop-ups from some of the highest-visited sites every second. 
---
Blackbird Windows 10 Privacy Tool
 
Blackbird is a privacy tool for Windows users that looks to help streamline and simplify the customization process of their privacy settings. While Blackbird is "not a real-time security software," it will tell users what elements of their system it views as insecure and allow them to fix them by pressing any key. The free downloadable is available online. 
---
IDVector Pocket Online Privacy System
The "miniature, single-board computer with a WiFi chipset" that is the Privacy Defender VPN from IDVector plugs into users' USB ports and looks to both encrypt data and protect users' "virtual location." The tool boasts easy zeroiszation, the ability to work with computer platforms like Windows, BSD, ChromeOS, Linux, and Mac, and a feature for users to create their own VPN paths, among others. While the tool is currently in the midst of a Kickstarter campaign, public and private path tests are available for free for iPhone or Android mobile devices. 
---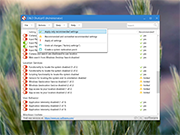 O&P ShutUp10 1.5 is another free tool for Windows users looking to better protect their privacy, this time after the recent Creator's Update release. The downloadable product looks to give users access to their privacy controls in one spot, letting them know if their settings have been modified in new updates and allowing them to change them back should they choose. Additionally, it sorts the setting options by category, like "privacy" and "security," and provides a reset switch for those unhappy with their own customizations.  
Comments
If you want to comment on this post, you need to login.