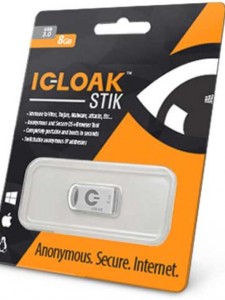 Developed by Eric Delisle, the iCloak Stik allows users to become invisible upon plugging the USB flash drive into either a PC or Mac computer. The device allows for anonymous browsing, composing documents or creating spreadsheets, as well as storing roughly 12GB of data. The iCloak is $99 for the tool and a year of free updates, or $149 for the device and a "lifetime" of free upgrades.
PrivacyCheq's program for assuring mobile and game app developers' products comply with the U.S. Children's Online Privacy Protection Act (COPPA), AgeCheq, now has new features in the system's newest version. AgeCheq 3.0 includes additional language options while ensuring users' apps comply with both the General Data Protection Regulation and the Privacy and Electronic Communications Regulation. Additionally, AgeCheq 3.0 includes a PIICrypt feature that allows app developers to store user data in an inaccessible cloud, as well as the "Privacy Viewer" option for technologists who just want straightforward privacy compliance for their app. AgeCheq 3.0 has SDKs for iOS, Android, Unity, ActionScript, and HTML5. Pricing is dependent on the aggregate corporate monthly active users.
The Project Success Toolkit for Microsoft Project ─ Microsoft Project Add-On

The planning software underwent an upgrade, with the new add-on including features like a "Look Ahead" report that informs users of upcoming deadlines; the "Precedents Relationship Report," and the "Project Metrics" report that contains important details for the activities on a user's docket.  A training class is available for those interested in procuring a product license.
Comments
If you want to comment on this post, you need to login.