Tech solutions are increasingly a part of a privacy pros' purview. Here's a look at a crop of new privacy- and security-based tools that should perhaps be on your radar. 
---

The Veeam tool allows users to fully backup their "virtual infrastructure" to removable media, network share, or a local host via its VeeamZIP ability. This functionality performs full, interactive backups without interrupting workflow. The Backup Free Edition is available for download on the Veeam website. 
---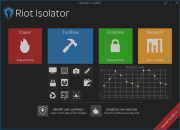 The Riot Isolator offers a suite of tools, from its secure data deletion element to its "anti-exploit" functionality. Additionally, the Isolator boasts a file unlocker and a USB key blocker, among other features. Users can opt to fully install the Isolator or use the product in a run-only mode. The tool is free and available for download for Windows Vista and later. 
---
SMARTOffice Data Protection Products' Enhanced Client App

Redvue's Client App V2 for both Windows and MacOS provides updates to its SMARTOffice Data Protection offerings, like its Secure Email Server and Continuous Data Protection Solution. These products look to give data protection autonomy to tech owners as opposed to IT teams. With this app, users will be able to install the base unit of the SMARTOffice suite and then begin to complete tasks like building employee accounts or add Local Mirror to their systems for data protection level control. Pricing and availability information is outlined on the Redvue website. 
---

The Connected Health Initiative and the ACT | The App Association have developed a free, interactive online tool helping organizations see how and if their technology falls under the jurisdiction of HIPAA's privacy and security rules. Additionally, users have the option of receiving a free analysis report after using the tool.
---
EU GDPR Compliance Gap Assessment Tool

This Excel-formated program for Microsoft systems looks to help users understand how they currently fare in relation to the General Data Protection Regulation's requirements. Its two tabs include a section with questions about the GDPR to help determine users' best next steps for compliance, and another section that identifies users' processes that include personal data. The product is available for 49.95 GBP on the company's website. 
Comments
If you want to comment on this post, you need to login.