Privacy Products You May Want to Know About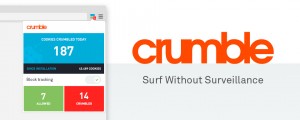 AVG has release a Chrome extension dubbed "Crumble" that disables cookies without blacklists or curbing "full web functionality," PCWorld reports. The program also boasts simplicity. "There are no settings to speak of or any real preferences to tweak; you just install it and go," a press release states.

ProtonMail employs thorough encryption to ensure total email privacy between users, going so far as to store its servers in security-law-friendly Switzerland. While premium accounts cost $5 a month, a free version is available to interested parties who would currently have to join a waiting list for access.
Imperva Skyfence Cloud Gateway v4.5 with Data Leak Prevention (DLP) by Imperva, Inc.

Imperva, Inc., unveiled Imperva Skyfence Cloud Gateway v4.5 with Data Leak Prevention (DLP), a program that aims to help to better protect and manage data in the cloud. Skyfence also works in conjunction with other applications, such as DropBox and Google Apps. The product will be widely released on June 30.
DgSecure Version 5.0 from Dataguise

 DgSecure version 5.0 is the newest release from Dataguise, providing users the opportunity to better monitor their data, track when it is manipulated by prohibited users and otherwise streamline the protection process. This version also allows for administrative auditing.

USMobile released Android app Scambl3, an encryption tool "developed in collaboration with the NSA" which hopes to afford smartphone users with more comprehensive privacy. Pricing, while not yet set in stone, aims to be $10 per month.
MobileIron's Array of New Products

MobileIron released a number of new products, such as its "visual privacy tool" that charts "what data their company can view and what actions their company can take on their device." Key manager, another tool, permits "enterprises to use their own hardware security module to safeguard their digital keys." The corporation is also partnering with Spunk to provide visualizations that can be used for regulatory compliance programs." Lastly, the company is expanding from iOs to Android and Windows.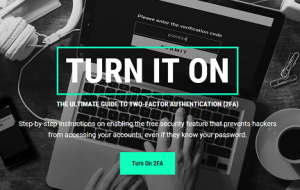 Turn it On aims to make enabling – or at least understanding how to enable - 2FA (two factor authorization) on one's favorite sites, from Facebook to Outloook, an easy process. The site catalogues the differing processes of a number of popular websites in one spot, and is a free resource. 
Comments
If you want to comment on this post, you need to login.