You might think that the first thing I do every morning is check out the privacy news. Hmmm. That's not the case. My first source of news every morning is the TSN and SportsNet websites. After getting my dose of sports news, I then turn to privacy-related items. Yesterday, however, the two worlds collided.
Front and center on the TSN page was an announcement that the information and privacy commissioner for Ontario was investigating a potential privacy breach involving the Toronto Blue Jays' star reliever, Roberto Osuna. He was charged with assault, and the manner in which the news seems to have been leaked has the commissioner wondering if the police followed the applicable privacy laws.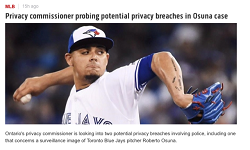 In other news this week, the federal government introduced a bill that would force political parties to post privacy policies. Sorry, but this is embarrassing. We've had similar requirements in the private sector for 17 years. And, they are talking about just one requirement that the rest of the world has to abide by. One headline called the proposal a joke. I agree. Now that the whole world is aware of how political parties are brokering in personal information, this tiny step is nothing but a tiny drop in an ocean that needs meaningful regulation. I sure hope our politicians wake up soon and realize that a true democracy can only prevail when the rules are set that allow for everyone's fundamental freedoms to be protected. This necessarily requires our political parties to protect and uphold the right to privacy.
Ok. I'm stopping there. I'm writing these comments on Thursday evening, and if you've learned anything about me by now, you'll know that I want to go watch game 7. Go Jets!
Comments
If you want to comment on this post, you need to login.