I have always been fascinated with the deep web, but until I started learning more about the privacy industry, it was always for the wrong reasons.
Whenever the deep web was mentioned, it seemed like it was done so in a negative light: That hidden part of the internet where bad people engaged in nefarious activities, a safe haven for pedophiles and black market arms dealers – at least that's how it always appeared on TV.
Since I started working at the IAPP, I have learned more about the deep web than any episode of "Law and Order: Special Victims Unit" could ever teach me. I've learned about the difficulty of remaining anonymous online and the pervasive use of online tracking. But I've also learned about some tools that help cover up your digital footprints, such as encrypted VPNs and Tor.
So when I came across a product allowing users to incorporate both privacy-enhancing features, I had to take a look.
The Anonabox PRO is a small router designed to stop any unwanted parties from viewing internet activity. It does this by incorporating both Tor and VPN services for use either individually, or at the same time.
I reached out to Anonabox and had a conversation with the company's VP of operations, Alan Burwell, who sent me a PRO to test out. The small black device is no bigger than a box of Sun-Maid raisins and comes with a power cord, the manual, and two 30-day codes for Vypr VPN and HideMyAss, two different proprietary VPN services.  
While discussing the Anonabox PRO, Burwell mentioned the learning curve for setting up the router: "It does help if you have some basic knowledge of networking, and it does help if you're a computer network savvy type of person, but you don't have to be."
Those words were ringing in my head as I opened up the box for the first time. I would describe myself as a moderately tech savvy individual. I'm not an IT expert, but this wasn't my first rodeo.
I found the startup guide a very helpful resource. One of the first steps is to access the user interface. The guide gives you the URL to the interface, and while it took a few tries to access, I finally got in.
The guide includes useful tips and a troubleshooting section. The second time I used the user interface, I could not get in. Fortunately, the guide advised me to clear my cache, and I was back online.
The user interface is easy to use, even if there were occasional battles with lag. Setting up passwords and network names was easy, and the guide offers recommendations for network novices.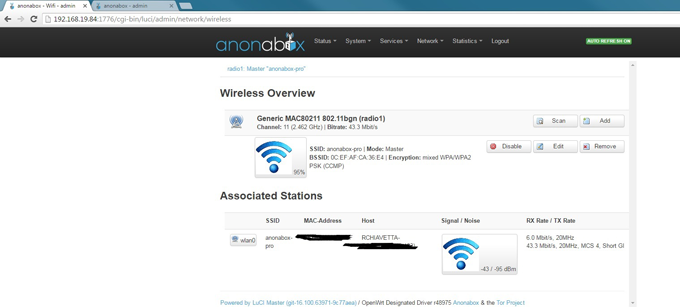 Password setup and the interface weren't always part of an Anonabox product. Early iterations were shrouded with privacy concerns, including a lack of password protection and the inability to prevent malicious users from hacking and hijacking the device. Burwell said anyone using those first models could exchange them for a newer model free of charge.
 "Some people considered that a recall. If you want to call it a recall, I suppose you can," said Burwell. "We didn't view it that way because the original product worked. It was just depending on how you were using it, it wasn't as safe as it should be. With the next generation of products, we've taken a lot of steps to listen to our customer base."
Burwell said the PRO continues Anonabox's mission to ensure user confidence by building in the user interface and giving individuals the ability to have full control over all of their passwords and security details. 
"A lot of our users were and still are very much tech savvy and understand some of the basic principles of networking and so they wanted some extra features," said Burwell. "So the newer products all have user interfaces. You can really get in there and customize what ports you are talking to. You can address all your password issues. You can even hide your network ID so that it doesn't really appear."
Burwell touted the router's interactivity as one of its selling points.
"Everyone has routers, but they don't interact with them. They are just this ubiquitous thing in the corner that just sits there and does magical stuff like providing internet," said Burwell. "What we do, though, is we provide … services (so) people can actually interact with the router."
After setting up the networks and passwords, it was time to access the privacy features. First, I started up Tor. Once I clicked on the screen, the PRO immediately started connecting to it.
Unfortunately, my first connection attempt took a while. Though the manual said it would take three to five minutes, it really took more than 20. But once I was connected, everything ran smoothly. I was also happy to see the second connection attempt was almost instantaneous.
The PRO allowed me to use any browser I wanted to surf the deep web, a definite plus. I did not need to download the Tor browser in order to access .onion sites. Instead, I could use any browser I wanted, from Google Chrome to Firefox.
If I wanted to have some friends join me, Burwell said anyone could join my network and have Tor access too. Since the PRO is a router, multiple people can connect at the same time and use Tor's capabilities.
"If you happen to be on a phone or a friend's computer, or a work computer, you don't have to download and configure. You just have to connect to the Anonabox network and make sure that it is running Tor appropriately and then you are connected," said Burwell
Connecting to both VPN services was far faster. After entering both codes and creating accounts, I was able to utilize both VPNs with no issues.
My only negative experience with the PRO was the spotty internet connection, and it was never particularly clear why. Connectivity would always come back, but it was frustrating to have to wait.
Spotty connection aside, and after all of the setup, I finally accessed the deep web. There are a lot of .onion links, and some of the directories can take you to some weird places. They also all look like they were created in 1999, in case you were curious.
I visited a few search engines, and listened to a radio station where I heard a great jazz rendition of "God Rest Ye Merry Gentlemen." Internet speed was never a problem, and normal websites ran fine as well.
The manual offers a few resources to see where your IP address is currently located. I found the PRO rerouted me all the way to a picturesque area in Norway. A far cry from New Hampshire.
Overall, my experience with the Anonabox PRO, outside of some initial connection issues, was positive. Once I finally got through the setup, I was able to painlessly surf the internet. As a first-time explorer of the deep web, I felt my voyages were secure. It is certainly a good product for those taking their first steps into internet privacy.
As for the future of the PRO, Burwell said new firmware is in the works. Burwell said updates are ongoing, but are updated irregularly. Updates will include security patches, usability fixes, new features, and partnerships. Burwell said the device does not feature a back door, so users will have to update the firmware manually, and any potential updates are listed on the Anonabox website. The company is also looking at ad-blocking features.
"We are always trying to stay up-to-date from a security perspective, so if we see any changes in the environment, we will obviously be working to fix that," said Burwell. "We are always looking to work with people within the industry, and within the privacy and security sectors in general. I think we are all in the same fight about going after and protecting freedom of speech."
Though the Anonabox may be geared more toward the privacy advocate in the home and dorm room, there may well be a place for it in the enterprise as well. Burwell said it could also be used by anyone concerned with privacy. So that could mean it could be used at high-level meetings within the enterprise,  or by employees who often depend on hotel or public Wi-Fi while on the road for business. 
For me, it was an interesting journey surfing the deep web. For businesses, it could be another tool to minimize exposure and bolster security. 
1 Comment
If you want to comment on this post, you need to login.
comment Mark Klerks • Jul 3, 2016

Hi Ryan, Thanks for this article.
I did read some other articles though, stating the whole thing was some kind of hoax. The box was standard equipment bought from Alibaba and contain nothing special.
It might be working okay for, but are you sure it is for sure making your surfing anonimous? Maybe someone can provide a more technical review and conclusion?
If it is as promissed, I want to have it! :)
Thanks Mark