Privacy is hot. Well, not quite as hot as summer reading on a sizzling beach, but with the advent of the EU General Data Protection Regulation, it certainly is in the spotlight. Companies are adapting their privacy policies to meet regulatory needs ... full inbox anyone? At the same time, there are ongoing reports about security lapses, data breaches, unwanted data sharing and computer hacking.
But there are positive trends, too.
Some mainstream manufacturers are integrating privacy solutions into their physical product designs. Innovation in design can give us both a sense of a direction a market is taking, as well as what consumer needs manufacturers are trying to meet.
There are a few designs that help address a key, often overlooked privacy challenge: verification.
Seeing and being seen
It will not be news to anyone that most laptops and phones have cameras. They record when we want them to but also when we don't want them to. To counter such risks and to feel comfortable in the presence of a webcam, people have become inventive about covering up their device's camera.
One simple do-it-yourself solution is to paste a Post-it or sticker on the webcam that can be pulled off whenever the user needs the camera for a video call or for taking a selfie. Ironically, a privacy-conscious friend who went as far as physically detaching the camera wire from his laptop screen felt pressured into putting a (now useless) sticker on his webcam so as to not appear to be weak on privacy.
In other words, covering your webcam signals to others that you care about your privacy.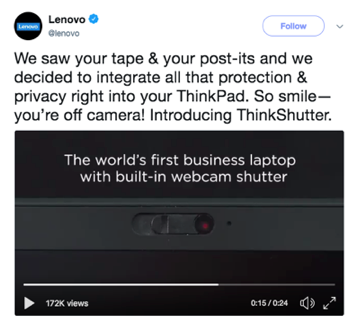 A few manufacturers have announced new products in recent months offering other solutions. The Lenovo ThinkPad Carbon X1 has a webcam shutter that allows you to quickly flip the camera on or off. This way you don't have to deal with stickers that leave marks on the camera or pieces of paper that lose their adhesiveness. It's a simple mechanical solution.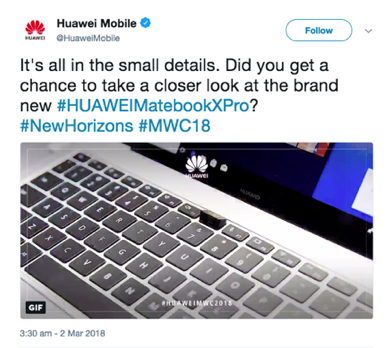 The keyboard-integrated camera on the Huawei Matebook X Pro. Huawei emphasizes control and privacy rather than reduced screen bezels.
Huawei's approach with its Matebook X Pro is different. The camera is integrated into the keyboard as if it is a normal key. By clicking on it, the camera appears, clicking again tucks it away. While this low-lying camera has been criticized for its less flattering viewing angles, it does give the liberating reassurance that you're off-camera when it's down.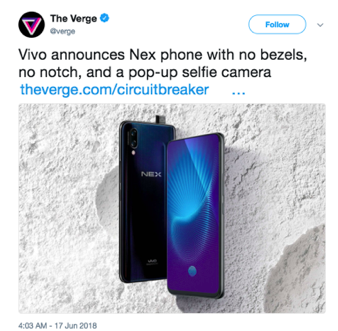 Mobile device manufacturers are taking a similar path. After Apple introduced the almost-full-screen iPhone X, many manufacturers followed with a similar "notch" design. The screen typically covers almost the entire front face of a phone, except for a small area at the top for sensors, including the camera lens. Last week, Vivo took it one step further with its NEX phone. It eliminates the notch by making the camera pop (or "elevate") out of the phone, instead of always being visible. This week, OPPO announced the Find X, where an entire top section slides out to reveal the "stealth" front and rear cameras. While the focus for both companies may be on achieving a true full-screen experience, the privacy benefit is evident: You're only at risk of being exposed when the camera pops out of the phone, which is clearly visible to yourself and others.
These designs follow on innovation in another area of visual privacy, protecting what you are looking at. Privacy screens can be attached to any computer screen and darken a part of it when viewed from a side angle. It's a useful way to keep onlookers sitting next to you or behind you from easily sneaking a peek of your screen. Facilitating an easier privacy experience, HP and 3M developed Sure View. This privacy filter is built directly into laptop screens, only requiring a keyboard shortcut to activate, deactivate or adjust it. 
Walking the walk
These designs are instructive in three ways.
First is in understanding what gives them such privacy appeal. In the era of the internet of things — with sensors visibly and invisibly seeing and hearing us, detecting our moods and observing our interactions - privacy by design is essential. The technologies mentioned above each fulfill two, if not three, key tenets of good privacy design: transparency, (user-friendly) control, and good defaults. You can easily see whether the camera sensor is exposed (transparency); easily close the shutter (control); and the camera may be hidden from the get-go (good defaults).
Two, they highlight a critical piece that is missing from most people's privacy experience nowadays — the ability to verify whether you are exposed; what data is collected about you; and what happens with it. People commonly have to rely on privacy policies, which are often opaque and may not accurately reflect an organization's data practices. That's what makes these physical design solutions so interesting. You can verify without needing to trust a third party.
The third lesson is that it's worthwhile focusing on product-level privacy, rather than only on higher level organizational policies. Product-level privacy can offer very practical solutions because it focuses on the experience of people using the product. As such, it is sensible to include product-level factors in privacy impact assessments. 
The way forward
What is interesting about these initiatives is not only the tangible privacy benefits they offer but also that most of the mentioned manufacturers emphasize privacy in their product marketing. That is heartening for privacy advocates longing to see privacy become a competitive differentiator. A move toward more effortless privacy can raise the bar for the benefit of everyone.
1 Comment
If you want to comment on this post, you need to login.
comment Jason Cronk • Jun 21, 2018

Good post. I will note I've had a Libre 15 laptop for several years which includes a hard mechanical switch for the camera. But, similar to your friend, I have a EFF.org camera cover sticker (next to the camera portal) for vanity purposes.