Privacy After Hours, a volunteer-organized series of after-hours get togethers held all across the globe, expanded yet again this past Thursday, with 31 events held and hundreds of attendees. The big news? We're in China now! Gregory Louvel, Associate at Dechert LLP, held our first-ever party in Beijing.
In total, 10 events were held outside the United States, and we can't thank our gracious hosts enough for finding locations, helping us to spread the word and even offering up the IAPP lunchbags we offered as door prizes. Would you like to host an event? Well, drop a line to Marin, and she'll get you sorted.
And now, without further ado, some photos from the events:
Nancy Dempsey CIPP/C, Corporate Access & Privacy Officer at Halifax Regional Municipality, played host at the Fireside, in Halifax, Nova Scotia, Canada.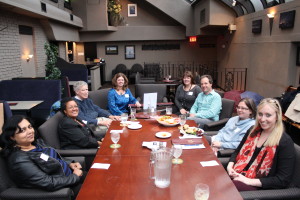 Eija Warma, Counsel, Data Protection & Privacy at Castrén & Snellman Attorneys Ltd, brought people together at O'Malley's, in Helsinki, Finland. And, look, that's door-prize winner Iiro Loimaala.
Merri Beth Lavagnino CIPP/US CIPP/IT, Chief Risk Officer at Indiana University & Karen Sheely CIPP/G, Technical Advisor, Treasury/IRS, arranged for the good time at Barcelona Tapas Restaurant, in Indianapolis, Indiana.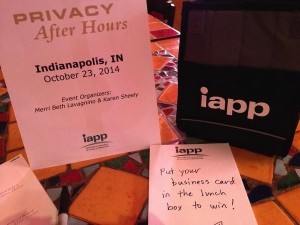 Tom Kelley CIPP/US, Partner at McGrath North, hosted things at Fox and Hound, in Omaha, Nebraska.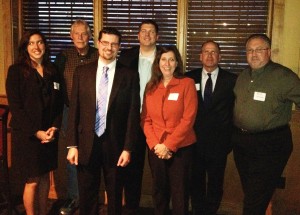 Phil Lee CIPM, CIPP/E, Partner at Field Fisher Waterhouse, turned up the hospitality at NOLA Restaurant & Bar, in Palo Alto, California.
Timothy Yim CIPP/US, Privacy & Technology Project at the Institute for Innovation Law, UC Hastings School of Law, got people to join in at the Press Club, in San Francisco, California.
Renato Monteiro, Associate at Opice Blum, opened up the offices in Sao Paulo, Brazil.
And no Privacy After Hours could be complete without a stop in Washington, DC. Thanks to Cecilia Boudreau CIPP/US, CIPT, CIPM, Corporate Counsel at Association of American Medical Colleges, for hosting folks at Ping Pong Dim Sum.
Comments
If you want to comment on this post, you need to login.