Networking+
Get social! Use the hashtag #DPC21 to join the conversation on Twitter and follow @PrivacyPros and @DailyDashboard for live updates from the conference.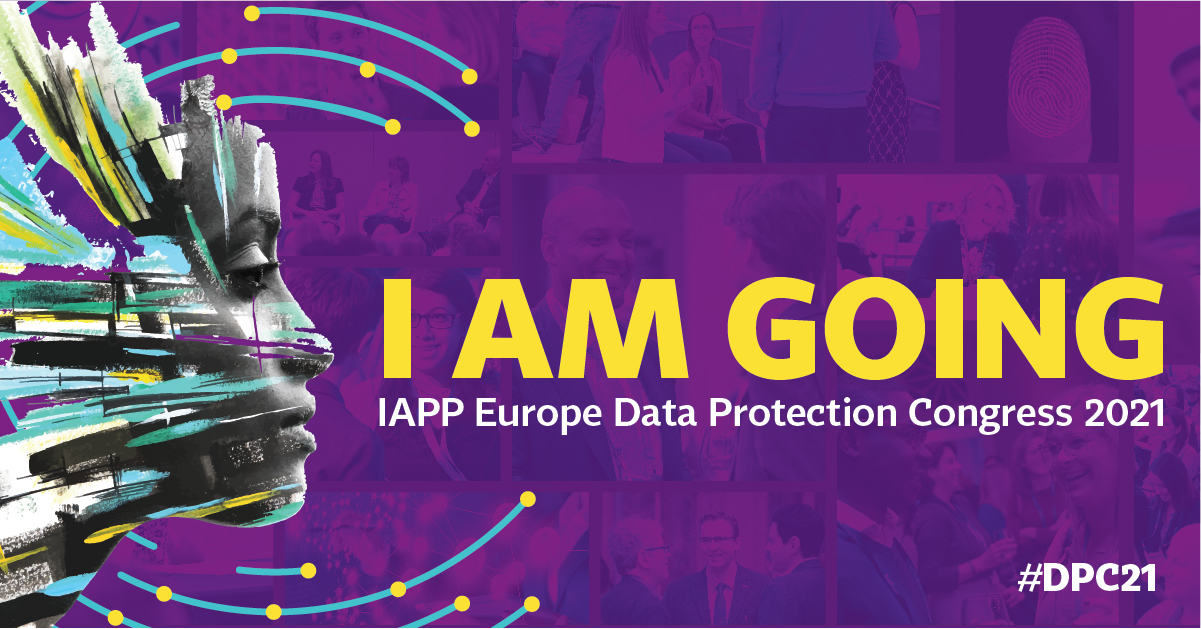 Simply click on the Twitter, Facebook and LinkedIn icons to post to your networks.
Let your followers and friends know you will be attending #DPC21 in Brussels!
Welcome Reception Breakfast
Wednesday, 17 November, 8:30 – 10:00
Join fellow colleagues for a welcoming mimosa and reconnect with exhibitors and delegates.
IAPP Central
Wednesday, 17 November, 8:30 – 18:45
Thursday, 18 November, 8:00 – 15:00
IAPP Central is your privacy hub, where you will find up-to-the-minute resources and tools to help you, and your organisation, meet your challenges head-on. Just tell us what you need — we are here to help.
Co-Work Space
Wednesday, 17 November, 8:30 – 18:45
Your office away from the office, a place to meet with your team or get some work done quietly on your own so you can get back to the conference.
Industry Meet-Ups
Network with other professionals looking to advance and support colleagues in the privacy field.
Wednesday, 17 November
11:30 – 12:00
Finance Meet-Up
Technology Meet-Up
15:30 – 16:00
Privacy Engineering Section Meet-Up
Women Leading Privacy Section Meet-Up
Thursday, 18 November
10:00 – 10:30
Privacy Law Section Meet-Up
Public Sector Meet-Up
11:45 – 12:15
Diversity in Privacy Section Meet-Up
KnowledgeNet Volunteer Meet-Up
Roundtable Topic Discussions
Wednesday, 17 November, 13:15 – 14:15
Select a topic and grab a seat at the table! Connect with fellow attendees over a small, interactive and lively discussion. Lunch will be available in the room, so come straight to the session to participate. Seats are not guaranteed; first-come, first-served.
Global Health Research vs. Local Requirements
Jeppe Guilford Manuel, Novo Nordisk A/S
Privacy and Encryption
Murray Gregorson, MongoDB
Privacy & Security
Caroline Goulding, TikTok
Interested in hosting a Roundtable Discussion on a topic of your choice? Submit your topic on our volunteer recruitment form here!
5-Minute Belgian Beer Mixer
Wednesday, 17 November, 17:00 – 17:30
Prost and toast each other in these quick, one-on-one meetings to ensure you meet lots of new people. This is speed networking at its best — with a cold Belgian. Bring your business cards!
Sections Happy Hour
Wednesday, 17 November, 21:00 – 22:00
Meet up with other delegates for some fun, casual networking around Brussels.
Mentor Mingle
Thursday, 18 November, 13:30 – 14:00
Are you a seasoned privacy delegate looking to share your experience with a newcomer? Or are you fresh to privacy and looking for guidance on navigating the industry? Whichever group you fit into, this networking opportunity is for you. Connect with other delegates and learn by being taught or by teaching. This is where big names in privacy nurture the next big names in privacy. We will provide icebreakers to help you get started!
Mentors:
Robin De Wouters, FEDMA
Odia Kagan, Fox Rothschild
Burak Ozdagistanli, Ozdagistanli Ekici Attorney Partnership
Elena Turtureanu, Adform A/S
Felix Wittern, Fieldfisher
Interested in serving as a Mentor? Sign up on our volunteer recruitment form here!
Volunteer Today!
If you want to get even more from Congress, get involved! We are currently seeking volunteers. Please check here to learn more about available opportunities and to apply for a volunteer role.
Note: Volunteers do not receive complimentary conference passes, but they do receive our unyielding gratitude and respect! Please ensure you are registered for the conference before you apply.