General Information
Conference Venue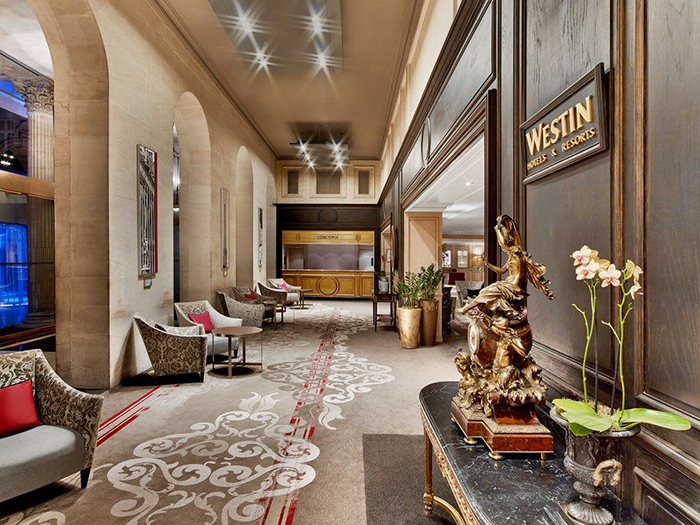 Ideally situated in the heart of the City of Light between the Louvre and the Place Vendôme, The Westin Paris – Vendôme offers a blend of historic architecture and high technology, celebrating both local culture and innovation. It is an ideal setting to shed light on just how far privacy and data protection have come, share practical solutions to today's critical challenges, and look ahead to issues surrounding GDPR compliance and today's technology.
The Westin Paris – Vendôme
3 Rue De Castiglione
75001 Paris
France
Tel: (+33) 1 44 77 11 11
Fax: (+33) 1 44 77 14 60
Click here for a map, points of interest, and directions.
Networking
Networking Reception
Tuesday, 12 February, 17:00 – 18:00
Join us as we close out the first day of the conference with a relaxing networking reception. Enjoy food, drinks and fun as you re-establish old acquaintances and forge new connections with conference delegates.
Sponsored by:

IAPP Privacy Core® e-learning Demos
Tuesday, 12 February, 15:35 – 15:55
Wednesday, 13 February, 12:25 – 12:55
Your staff will not be able to stop a data breach unless they see it coming. Equip them to recognise the early warning signs with the Privacy Core® e-learning library. Other times available on request. 
General Information
If you wish to speak with someone in French for details about the IAPP Data Protection Intensive: France 2019, contact the IAPP European office at europe@iapp.org.
Method of payment: You can make your payment by wire transfer, Mastercard, Visa or American Express. Please email us for wire transfer information.
VAT Information: VAT is not charged on event registration. No VAT invoice will be issued.
Registration policy: Registration fees represent the cost of a single pass per person. Sorry, no sharing passes.
Cancellation policy: Registration fees are not refundable but are transferable to a person in the same company, pending IAPP approval. No refunds if you cancel or do not show up. Your completed registration form, online registration and email confirmation constitute a binding agreement between two parties.
Conduct at IAPP Events: The IAPP is dedicated to making our meetings and events safe places for all. We do not tolerate harassment of any kind. We insist that all participants at IAPP events—whether delegates, staff, faculty, exhibitors or sponsors—demonstrate respect and courtesy to all. This includes refraining from inappropriate language, comments and behaviour, in person or by electronic communications (such as social media).
Anyone who has experienced improper behaviour in violation of this policy is encouraged to report it immediately to IAPP event staff. IAPP staff members are trained to elevate such issues immediately. Alternate methods of reporting issues include emailing IAPP President & CEO J. Trevor Hughes at jthughes@iapp.org, or contacting a member of the IAPP Board of Directors.
The IAPP reserves the right to rescind registration or attendance at any IAPP event at any time for violations of this policy.
Tax deductibility: Training expenses, including your registration fee, travel, lodging and meals, may be tax deductible if they're for maintaining or improving your professional skills. Consult your tax advisor. IAPP Federal Tax ID 23-3048008.
Photography/video: You should be aware that the IAPP will be taking photographs and video in public areas of the conference (session rooms, exhibits, etc.). We may use such media in marketing materials, educational products and publications. Your image and the sound of your voice may be recorded on audio or video tape. If you are identified during the recording, or identify yourself by name, that information may be included in our materials. Recordings may be edited, copied, exhibited, published or distributed.
Please note: The views and opinions expressed in programme sessions are those of the speaker(s) and do not necessarily reflect the positions of the IAPP.
Continuing Education
Mandatory Continuing Legal Education
We do not apply for CLE credits for our international events, but you can use the Certificate of Attendance that will be emailed to you after the event to self-report to your state of licensure.
IAPP Continuing Privacy Education
If you're looking for continuing privacy education (CPE) credits, this conference qualifies.
Available Credits at the Intensive:
Conference: 7 Group A CPEs
To Get Credit:
You don't need to do anything. Credits will automatically be applied to each designation you hold (if you hold multiple designations, credits will be applied to all). If your credits don't appear on your CPE Summary within 30 days after the event, please contact us at cpe@iapp.org.
IAPP certification exams and networking activities don't count for CPEs.
Read our official CPE policy.
Media
We can provide complimentary media/industry analyst credentials and assist reporters/analysts with information in advance of the event. Credentials are available only to those formally affiliated with established media outlets and to industry analysts from recognised firms.
To request media credentials, news releases, and advisories, contact:
Lindsay Hinkle
External Affairs Director, IAPP
lhinkle@iapp.org.
Read our latest releases.