Networking+
Get social! Let your friends and followers know you are attending #CPS23 in Toronto. Simply download the image below and upload it to your preferred social network. Do not forget to tag the IAPP.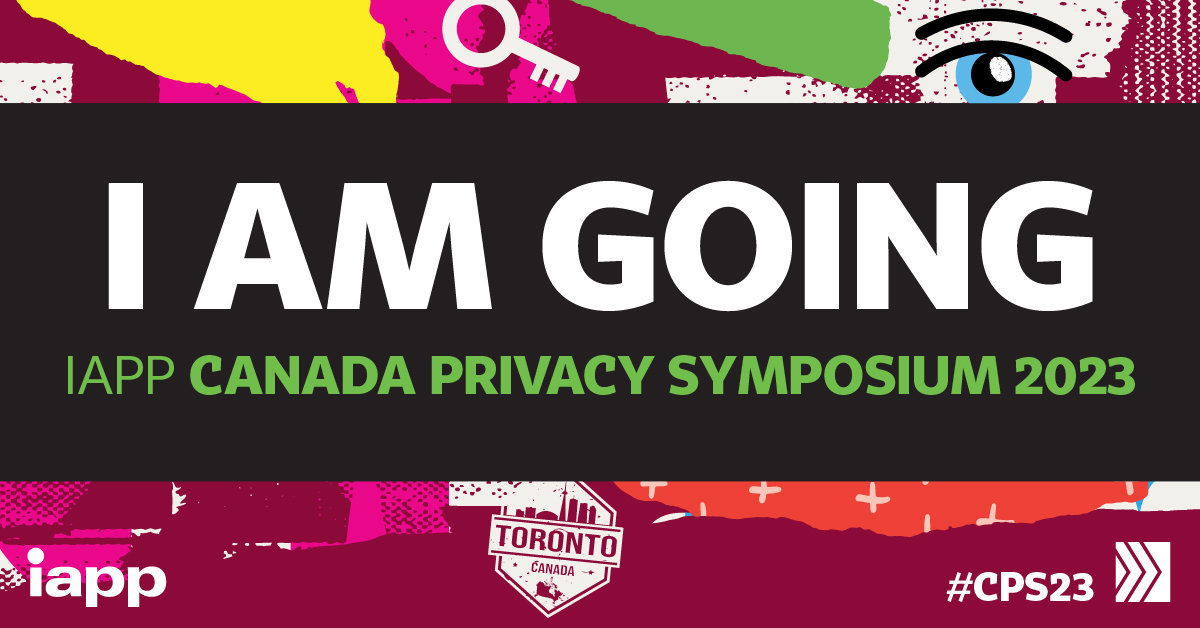 Welcome Reception
Wednesday, May 24, 5 – 6 p.m.
Enjoy food and drinks with friends and colleagues at our opening night reception. Set aside the time to network and check out this year's exhibitors.
Sponsored by:

Symposium Scenic Run
Thursday, March 25, 7 – 7:30 a.m.
Hit the streets! This guided run (led by RunWestin) is a great excuse to get some fresh air and meet some new people. Save time in the morning by signing the participation waiver electronically. Be sure to arrive to the Westin hotel lobby a few minutes early to stretch.
Industry Meet-ups
Thursday, May 25, 10 – 10:45 a.m.
Friday, May, 26 10 – 10:30 a.m., 11:30 a.m. - 12 p.m.
Network with other professionals looking to help advance and support colleagues in the privacy field. Connect with fellow privacy pros involved or interested in higher education, energy and utilities, adtech, cybersecurity and more. Submit your volunteer application to lead a meet-up today!
Thursday, May 25
10 - 10:45 a.m.
First-time Attendee Meet-up
Public Sector Meet-up
11:30 a.m.- 12 p.m.
Cybersecurity Meet-up
Women Leading Privacy Section Meet-up
Friday, May 26
10 – 10:30 a.m.
Diversity in Privacy Section Meet-up
Privacy Engineering Section Meet-up
11:30 a.m. – 12 p.m.
Health Care Meet-up
Privacy Bar Section Meet-up
Peer-to-Peer Roundtable
Thursday, May 25, 1:15 – 2 p.m.
Select a topic and take a seat at the table. Connect with fellow attendees over small, interactive and lively discussions. Submit your volunteer application to lead a roundtable today!
Risk Management and Privacy by Design
Marco Cantin, GFT Canada
Privacy Soirée
Thursday, May 25, 6 – 8 p.m.
The IAPP's Privacy Soirée lets you connect with other professionals in a relaxed and sophisticated setting. This year, join us at The Van Gogh Exhibit at the Lighthouse Art Space Toronto for a beautiful immersive experience unlike anything you've ever seen as you network with your fellow colleagues and enjoy some delicious canapes and refreshments.
Location:
Lighthouse Art Space Toronto
Van Gogh Exhibit Toronto: The Immersive Experience
1 Yonge St, Toronto, ON M5E 1W7, Canada
IAPP Central
Wednesday, May 24, 5 – 6 p.m.
Thursday, May 25, 8 a.m. – 4:45 p.m.
Friday, May 26, 8 a.m. – 2:15 p.m.
IAPP Central is your privacy hub, where you will find up-to-the-minute resources and tools to help you and your operation meet challenges head on. Just tell us what you need — we are here to help.
Networking Lounge
Thursday, May 25, 8 a.m. – 5:45 p.m.
Friday, May 26, 8 a.m. – 4:30 p.m.
Recharge, network or just get a few minutes of work done.
Volunteer today
To get more out of Symposium 2023, be a part of it. Volunteering is a great way to network while getting a behind-the-scenes look at the conference. Choose from a number of fun, well-organized volunteer opportunities.
Volunteers needed: Meet-up greeters and Peer-to-Peer Roundtable discussion leaders. If you are already registered and want a bigger role, submit your volunteer application today or email volunteer@iapp.org.
Note: Volunteers do not receive complimentary conference passes, but they do receive gratitude and respect. Please ensure you are registered for the conference before you apply.