General information
Location
Located in Singapore's central business district with stunning views of the city, the five-star Marina Bay Sands offers every amenity for a productive and comfortable Forum. Be sure to take advantage of its world-class exhibition, shopping, dining and entertainment facilities.
Health and safety
The IAPP will continue to follow state, local and venue requirements for meeting safely, plus guidance from the U.S. Centers for Disease Control and Prevention as it relates to COVID-19 and other communicable diseases.
Currently there are no health and safety requirements for attendance at the IAPP Asia Privacy Forum. However, we will continue to monitor and communicate COVID-19 developments as needed.
What to expect from the Asia Privacy Forum 2023:
A clean venue, in accordance with the Marina Bay Sands Expo & Convention Centre's standards.
Respect for personal space.
We ask that you please stay home if:
You are sick or have COVID-19 symptoms (such as fever, a sore throat, chills, cough, shortness of breath, congestion, nausea or vomiting).
You have been directed to self-isolate or quarantine by a health care provider or public health official.
You are awaiting the results of a COVID-19 test.
Please monitor your health throughout the conference and stay home if you begin to feel sick. Please contact us if you have questions.
Air travel questions?
Your airline is the best source for personal safety protocols at the gate and on the airplane. Be sure to visit your airline website the week you are traveling and sign up for notifications related to your trip.
Networking
Get social. Let your followers and friends know that you are attending #APF23 in Singapore. Simply download the image below and upload it to your preferred social network. Do not forget to tag the IAPP.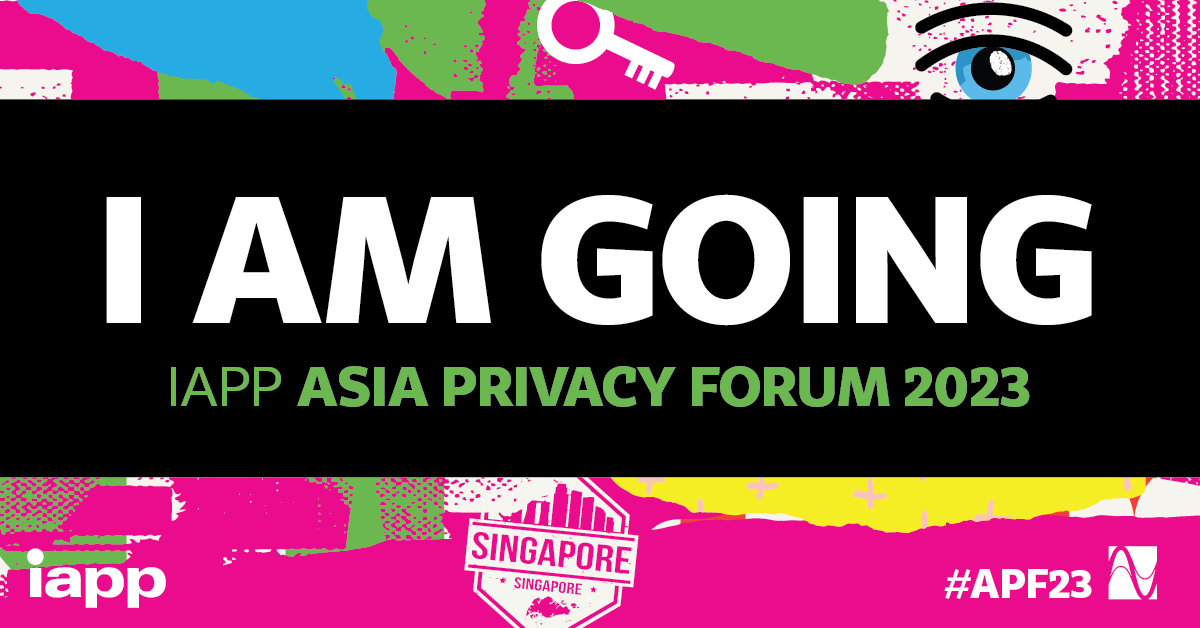 Networking by Table Topic
Wednesday, 19 July, 12:15 – 13:30
Thursday, 20 July, 12:45 – 14:00
Select a topic and grab a seat at the table. Connect with fellow attendees over shared interests in these small and lively discussions. Check back soon for topics.
Welcome reception
Wednesday, 19 July, 17:30-18:30
Make connections with professional peers in a relaxed social setting at the networking reception. It is a wonderful opportunity to grow your network within the data protection community.
General information
Registration processing: All registrations will be processed by Stova (formerly Aventri). Because we are contracted with an external vendor, you will not be able to see your balance or payment amount when you log in to your MyIAPP portal.
Assistance and accommodations: If you need any special accommodations (e.g., if you are blind/visually impaired or use a wheelchair), please contact us in advance to arrange for assistance at the Asia Privacy Forum.
Method of payment: You can make your payment by wire transfer, Mastercard, Visa, American Express or Discover. Please contact us for wire transfer information.
VAT information: VAT is not charged on event registration. No VAT invoice will be issued.
Registration policy: Registration fees represent the cost of a single pass per person. Sorry, no sharing passes.
Cancellation policy: Registration fees are not refundable but are transferable to a person in the same company, pending IAPP approval. No refunds if you cancel or do not show up. If you do not cancel prior to the end of the conference, you will be liable for the registration fee. Your completed registration form, online registration and email confirmation constitute binding agreement between two parties.
Cvent Events app privacy notice: In association with attending one or more of our conferences, you will have the option to download the mobile app to help you navigate the conference and plan your schedule. The IAPP has engaged a cloud service provider (Cvent) to host the Cvent Events App, which will allow conference attendees to view the program, including any last-minute updates to sessions, speaker biographies and venue navigation. There will no longer be a printed program for events.
To access the app, conference attendees must download the "Cvent Events" app on their mobile device or access the program on Cvent's event-specific webpage, entering a unique event ID which the IAPP will send by email. The IAPP shares with Cvent event registrants' first and last name, email address, and mobile phone (if provided) to allow event attendees to be authenticated when they access the web-based event app. More information about Cvent's privacy practices is available in its global privacy notice.
Conduct at IAPP events: The IAPP is dedicated to making our meetings and events safe places for all. We do not tolerate harassment of any kind. We insist all participants at IAPP events — whether attendees, staff, faculty, exhibitors or sponsors — demonstrate respect and courtesy to all. This includes refraining from inappropriate language, comments and conduct, in person or by electronic communications (such as social media).
Anyone who has experienced improper conduct in violation of this policy is encouraged to report it immediately to IAPP event staff. IAPP staff members are trained to elevate such issues immediately. Alternate methods of reporting issues include emailing IAPP President and CEO J. Trevor Hughes at jthughes@iapp.org, or contacting a member of the IAPP board of directors.
The IAPP reserves the right to rescind registration or attendance at any IAPP event, at any time, for violations of this policy.
Privacy notice: We understand you are aware of and care about your own personal privacy interests, and we take that seriously. This privacy notice describes the IAPP's policies and practices regarding its collection and use of your personal data and sets forth your privacy rights. We acknowledge that information privacy is an ongoing responsibility, and so we will, from time to time, update this privacy notice as we undertake new personal data practices or adopt new privacy policies. If you have questions or concerns, please contact dpo@iapp.org.
Tax deductibility: Training expenses, including your registration fee, travel, lodging and meals, may be tax deductible if they are for maintaining or improving your professional skills. Consult your tax advisor. The IAPP federal tax ID is 23-3048008.
Dress code: Wear whatever makes you comfortable, but you cannot go wrong with business casual. It would also be wise to dress in layers so that you will be comfortable in heavily air-conditioned session rooms.
Photography/video: Please be aware that the IAPP will be taking photographs and video in public areas of the conference (session rooms, exhibit hall, etc.). We may use such media in marketing materials, educational products and publications. Your image and the sound of your voice may be recorded. If you are identified during the recording, or identify yourself by name, that information may be included in our materials. Recordings may be edited, copied, exhibited, published or distributed.
Please note: The views and opinions expressed in sessions are those of the speakers and do not necessarily reflect the positions of the IAPP.
Continuing education
Mandatory Continuing Legal Education (MCLE)
We do not apply for MCLE credits for our international events, but you can use the Certificate of Attendance that will be emailed to you after the event to self-report to your state of licensure.
IAPP continuing privacy education
If you are looking for continuing privacy education credits, this conference qualifies.
Available credits at the Forum: 10.5 CPEs
To get credit:
You do not need to do anything. Credits will automatically be applied to each designation you hold. (If you hold multiple, credits will be applied to all.) If your credits do not appear on your CPE Summary within 30 days after the event, please contact us.
IAPP certification exams and networking activities do not count for CPEs.
Media
Welcome, members of the media. This event will offer newsworthy stories from high-profile speakers as well as current trends and issues in data protection today. Programming is open to the media unless otherwise noted.
We can provide complimentary media/industry analyst credentials and assist reporters/analysts with information in advance of the event. Credentials are available only to those formally affiliated with established media outlets and to industry analysts from established firms.
To request media credentials, news releases and advisories, contact:
Read our latest releases.